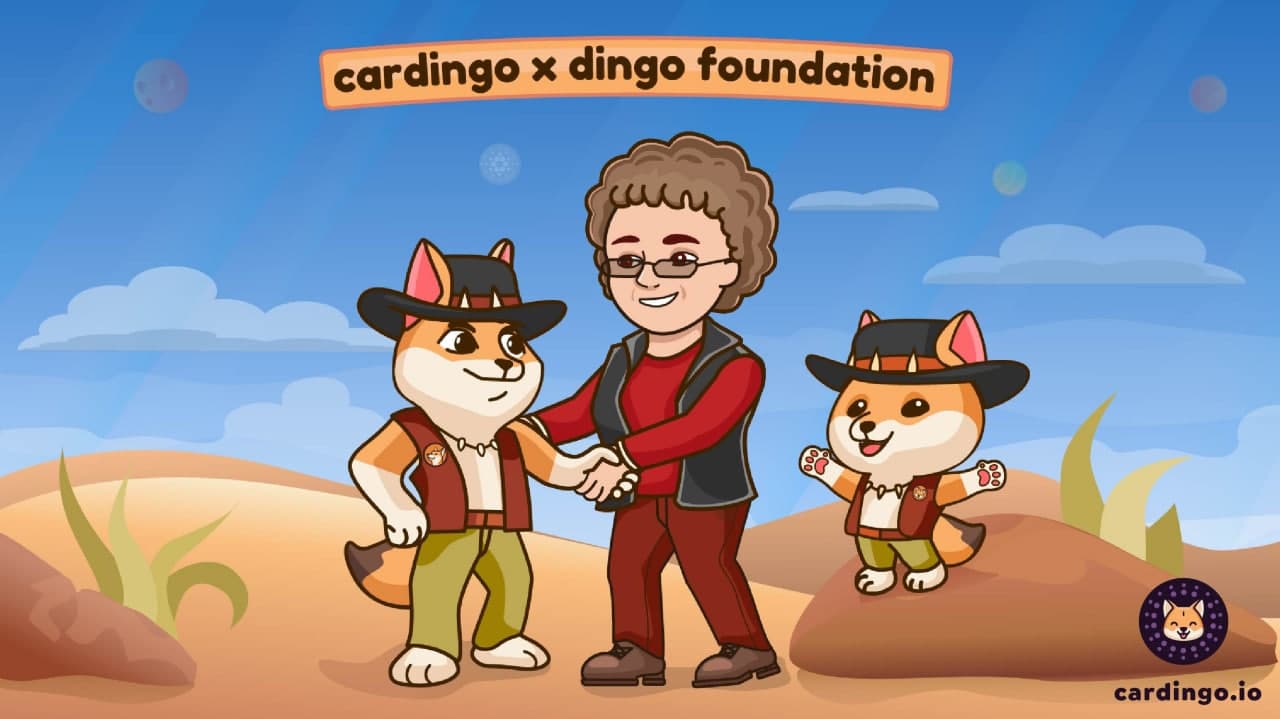 press release
PRESS RELEASE. Sydney, Australia – Cardingo is an NFT series and Cardano NFT marketplace that has secretly been in the works for months. While the world waited for Cardano smart contracts, the Cardingo team busily went to work on a series of NFTs and a unique marketplace to satisfy the tastes of Cardano fans worldwide.
CNFTs started selling long before smart contracts. Platforms like cnft.io and easycnft.io have offered CNFTs for months. They have been so successful in fact the platforms are inundated with an overwhelming and constant flow. Cardingo aims to stand out by providing a curated marketplace, which mints NFTs only by selected artists. This brings a unique and exclusive touch and Cardingo will always be searching for additional high-quality art and high profile artists to join the platform. Extra effort is being applied into seeking Aboriginal art and artists to expand their income potential and help share their culture and history with the world.
A CARDANO MASCOT – OUTBACK STYLE
In addition to a solid CNFT Marketplace, Cardingo aims to be a loyal defender devoted to stomping out Cardano Fud. This playful, yet serious side gig, will offer Cardano fans a new mascot to root on and cheer as the new era of Cardano takes hold.
THE CARDINGO NFT COLLECTION
The Cardingo NFT Platform will launch with a carefully developed series of NFTs:
HoskeyChains

are the first collection that offer computer generated keychains in a huge variety of Cardano inspired characters.

HoskeySmokeys

offers artist generated pixel animations that depict the beloved hero Charles Hoskinson in an animated pixel that literally blows smoke.

HoskeyMates

are another artist generated NFT that depicts Charles Hoskinson, in pixel form, wearing a variety of costumes or depicting different characters.

HoskeyMation

are another artist generated NFT that depicts Charles Hoskinson in pixel animations displaying different levels of Hoskeys such as noob, pro and more.

HoskeyPunks

are computer generated NFT that depicts Charles Hoskinson, in pixel form, wearing a variety of costumes or depicting different characters.

There is also a

Special Hoskey Edition

rare Charles Hoskinson collection that include illustration and animation, details on this rare NFT will be released later.
THE AUSTRALIAN DINGO
Cardingo intends to spread awareness and love for the Dingo. Cardingo has partnered with the Dingo Foundation and will help promote and raise awareness for the Dingo and also donate to the Dingo Foundation charity.
Lyn Watson, Head of the foundation, said "we've been really hard up for funding due to the lockdown and lack of visitors," but she is thrilled to partner with Cardingo and thinks the added global attention and donations will help her accomplish her goal of "federal protection for the species."
Dingoes are native and a valuable piece of the Australian Ecosystem, and as an apex predator, they are vital to keeping the environment in balance. Over the years they have been hunted, trapped, poisoned, and generally thought of as pests. Lyn fears the species will eventually become extinct if protection measures are not taken soon. The dingo population at the Dingo Sanctuary are a species "insurance population, which is a big responsibility."
Recently, their most famous Dingo, Wandi, fathered a litter of pups at the Dingo Sanctuary. Wandi's story went viral when the world learned the tale of a Dingo pup that was dropped from the talons of an eagle to land in a suburban backyard. Wandi even has his own book that soon may be incorporated into Australian schools nationwide. Lyn hopes Wandi will help the next generation learn to love and appreciate Australia's most valuable predator, rather than try and push it to extinction.
By partnering with Cardingo, Lyn aims to help continue her quest to change the reputation of the Dingo and preserve it for future generations. She has hopes in the future to build a visitor center and art gallery that will feature Dingo and aboriginal art for visitors to enjoy and appreciate.
AUSTRALIAN ABORIGINAL ART
Cardingo will also incorporate Australian Aboriginal art. The first evidence of Aboriginal philosophy is evident in the still visible rock art which dates back more than 20,000 years.
There is no written language for Australian Aboriginal People so in order to convey their important cultural stories through the generations it is portrayed by symbols or icons through their artwork.
Cardingo aims to provide avenues for aboriginal artists to pass on information and to preserve their culture. Indigenous art is centered on storytelling and used to convey knowledge of the land, events, and beliefs of the Aboriginal people.
FUTURE CARDINGO
The first Cardingo series NFT drop will be happening sometime around the first week in November 2021. Soon after Cardingo will hold the public launch of the utility token for the marketplace which will offer future staking options and additional rewards for Cardingo token holders.
---
This is a press release. Readers should do their own due diligence before taking any actions related to the promoted company or any of its affiliates or services. Bitcoin.com is not responsible, directly or indirectly, for any damage or loss caused or alleged to be caused by or in connection with the use of or reliance on any content, goods or services mentioned in the press release.
Image Credits: Shutterstock, Pixabay, Wiki Commons