CEEK has been leading the road for growing the metaverse on the blockchain as one of the pioneers in the VR Entertainment Metaverse, being considered as a role model for well-known tech companies such as Facebook and Microsoft.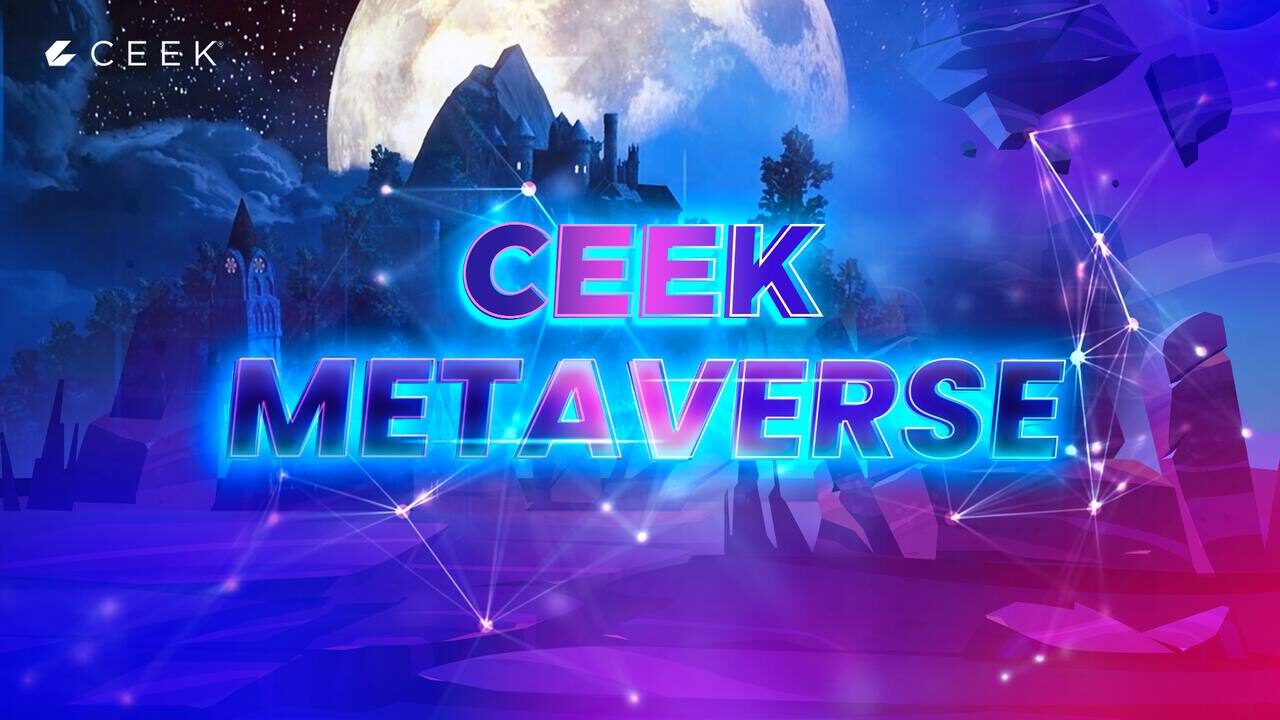 The Metaverse trend
The metaverse, as a term, refers to a wide range of virtual experiences, locations, and assets that grew in popularity during the pandemic's online-everything transition. These new technologies, when combined, hint to what the internet will become in the future.
Most social media, as well as video games like Roblox and Fortnite, and Animal Crossing: New Horizons, in which users may create their own worlds, have metaverse characteristics. You're a part of the metaversal experience if you hold a non-fungible token or even simply some crypto. At the very least, virtual and augmented reality are metaverse-related. If you've ever gone to a business meeting or a party with a digital avatar, you've entered the realm of metaversality.
Companies as well-known as Facebook and Microsoft have lately joined the'metaverse' movement and adopted the virtual experience. Since 2018, CEEK has been working hard to pave the road for the blockchain industry's growing metaverse.
Mark Zuckerberg presented his own Facebook-centric perspective with CNET in May: "We want to get as many people as possible to be able to experience virtual reality and be able to jump into the metaverse and to have these social experiences within that,". He was alluding to Horizon, the company's experimental virtual reality environment that he hopes customers would try out using Facebook's Oculus headsets.
How CEEK Has Been Paving The Way For Scaling The Metaverse On The Blockchain?
The Entertainment Metaverse is being built by CEEK, which is a linked virtual world of interesting venues driven by Ethereum smart contracts and safeguarded by the blockchain. CEEK has risen to the top of the metaverse on the blockchain by allowing customers to digitally enjoy live concerts while physically being anywhere else in the world.
CEEK has reached several milestones thanks to its outstanding vision to adapt and actively convert itself into one of the first metaverses on the blockchain. CEEK has recently been recognized as one of the fastest-growing metaverse tokens in the first week of November as well as the #1 VRAR token on Coinmarketcap, with its price rising by 1300% from under $0.05 to over $0.65 in 2 weeks. As CEEK expands its metaverse, the increase is projected to continue.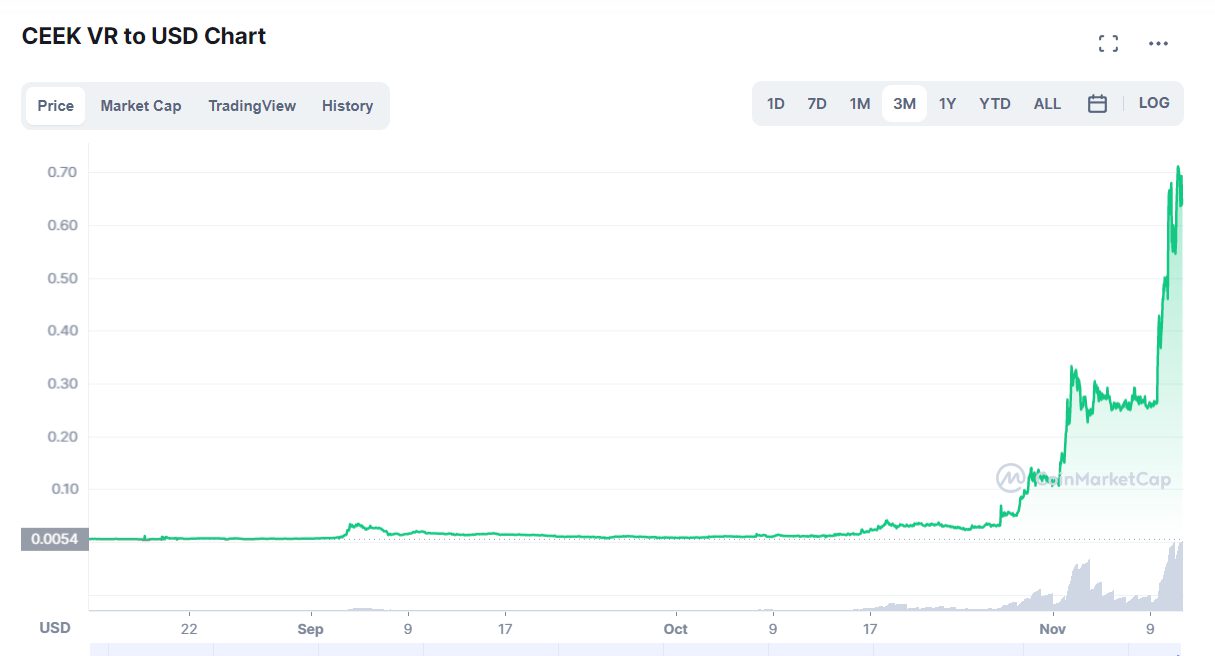 How did CEEK can achieve such success?
The new initiative intends to empower fans by combining two sectors – virtual reality and blockchain – to join a platform and attend their favorite live performances in virtual reality in "CEEK City." CEEK is on a mission to create an entertainment metaverse in which fans may engage in a wide range of activities. They'll be able to communicate with their favorite artists, enter contests, purchase unique virtual items, and more with CEEK tokens.
CEEK also benefits artists, who can use the platform to stream their shows in VR and invite followers to attend via the CEEK headset and app, resulting in increased income. Licensed music may be utilized by producers all across the world since rights clearance has been simplified, cutting bottlenecks and increasing efficiency.
CEEK has solved industrial difficulties and provided a compelling multimedia platform at a high-quality level by merging hardware and content in their ecosystem.
Hardware
CEEK allows users to access the Metaverse via a variety of devices, including Smart TVs, mobile phones, tablets, VR headsets, and more. Furthermore, they invented the cross-platform VR standard, which removes fragmentation in the market by allowing apps to be built once and operate on any VR device. This enables access to virtual reality devices as well as integration into the virtual reality systems used by their applications. The industry may now expand freely since it is no longer burdened by costly development expenses and perplexed customers.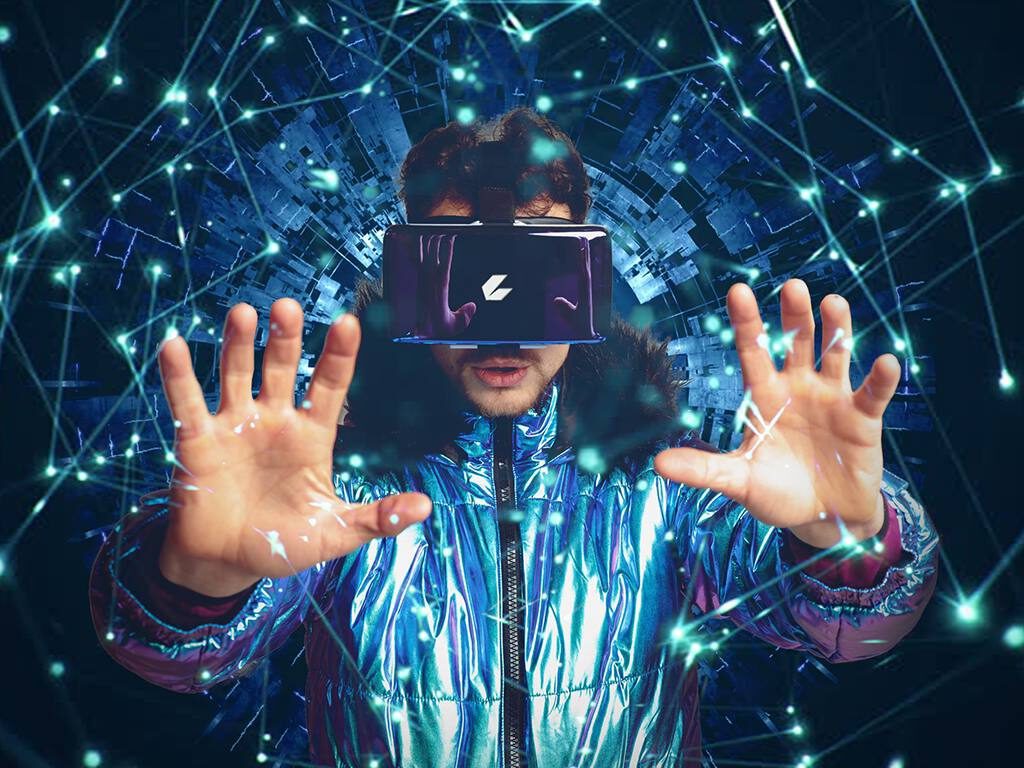 Content
For partners, content providers, developers, and end-users, CEEK makes V content accessible and simple. CEEK has received four patents that cover a wide range of services, including spatialized audio, ambient geometry, material, and physics. This is all connected to their content ingestion and distribution engine, which serves as an integrated content platform for numerous VR channels (Mobile VR, PCVR, Console VR, Desktop, and Web VR equipment such as Gear VR, Oculus, HTC Vive, etc.) Content updates, rights modifications, and management, pricing adjustments, clearing data, publishing metaverse, distribution, and reporting are among the 10 feed types currently ingested by CEEK, which come in a variety of formats, sources, and sizes.
CEEK makes it simple for partners to monetize their content by automating metadata ingestion, rights clearances, data administration, and reporting all in one place.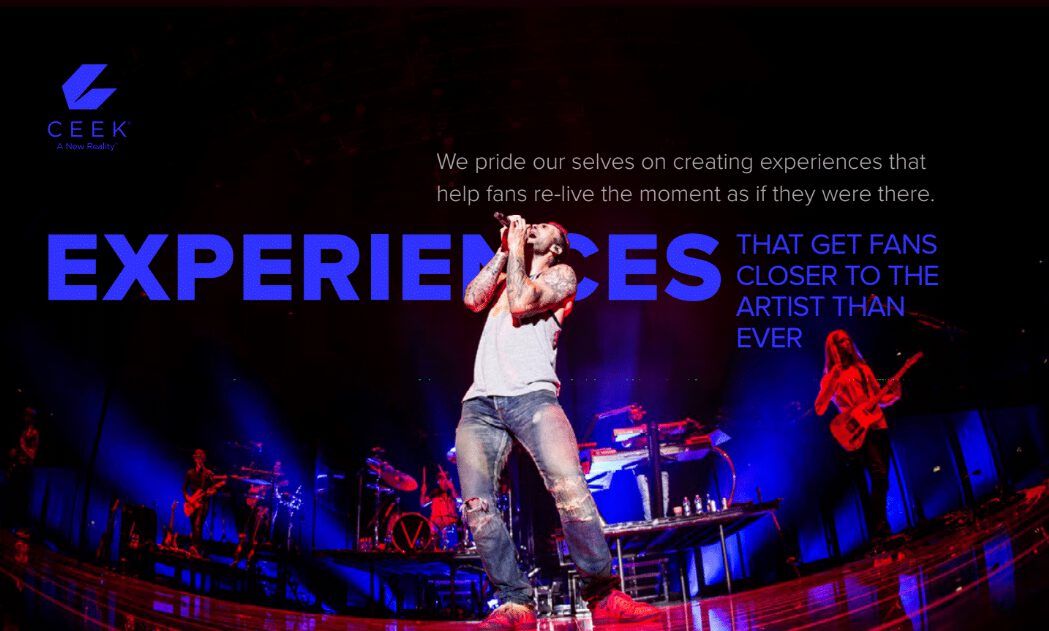 CEEK metaverse on blockchain
Smart Contracts regulate CEEK virtual reality settings, allowing token holders to engage in flexible, tokenized in-world interactions, rewards, voting, contests, virtual products, and more using BEP20 compliant Tokens named CEEK.
As the exciting world of virtual reality meets real-world opportunity through Smart Contract governance on the Binance Smart Chain, each CEEK Token holder will be able to participate in virtual reality space for real-world celebrity concerts, award shows, tech talks, charity fund-raisers, sporting events, VR commerce, classroom learning, and much more.
CEEK's platform allows content providers to tokenize smart tickets and track and verify sales of tickets and digital assets on the CEEK blockchain. Through immutable data on a ledger, this secures royalty payouts to creators.
CEEKers may also acquire rare artifacts, have exclusive access to their favorite bands, and publish/own rights to digital materials created by content producers all around the world.

Shifting from ETH to Binance Smart Chain
Last but not least, CEEK has made a significant step forward by switching from ETH to Binance Smart Chain, giving them a better chance to fulfill their metaverse ambition. The collaboration is seen as the next stage in their quest to provide the finest virtual and streaming experiences, as well as the start of their metaverse.
CEEK's transition to BSC lowers fees for all stakeholders while also allowing them to participate in their metaverse experience. CEEK moved to BSC in May 2021, and all CEEK ERC20 tokens were converted to BEP20 tokens. CEEK believes Binance Smart Chain to be the greatest network for growing user adoption without encountering network congestion or increasing transaction fees, thanks to the BEP20 token's speed, scalability, and enhanced network capabilities.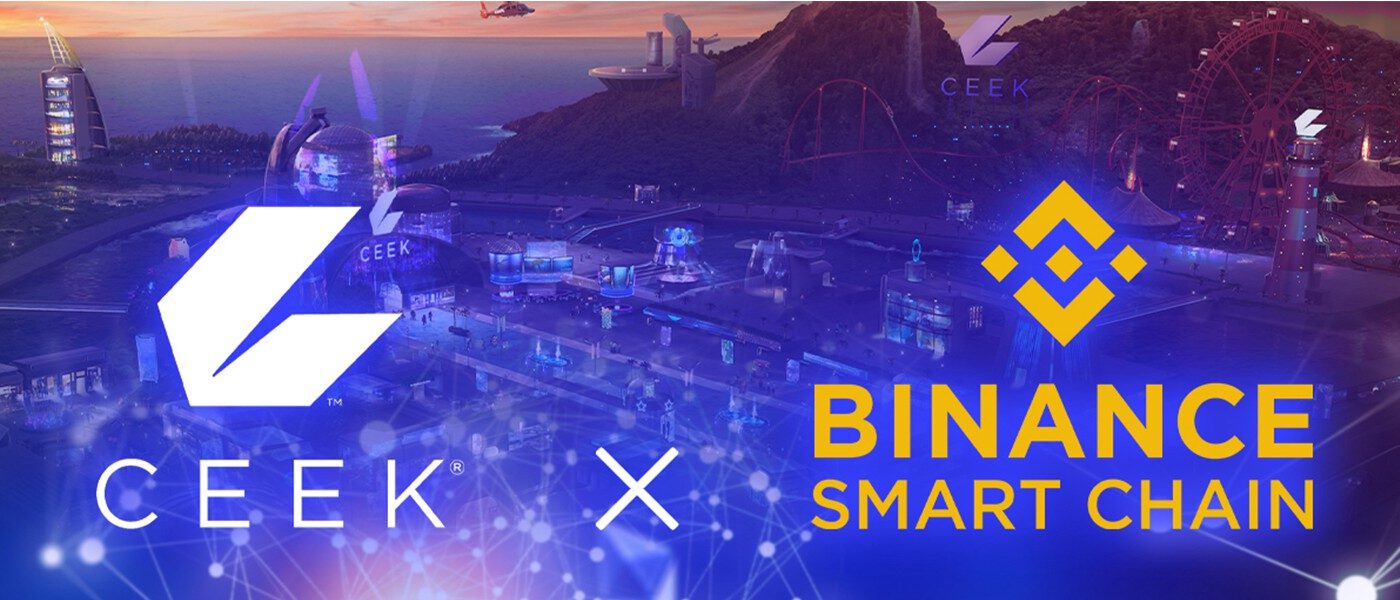 Learn More
Website: https://www.ceek.io/
Telegram: https://t.me/ceekvrtokensale
Facebook: https://facebook.com/ceekapp
Twitter: https://twitter.com/ceekvr
Instagram: https://www.instagram.com/ceekvr/
YouTube: https://www.youtube.com/CEEKVR
Airdrop: https://airdropalert.com/cointracker/cryptocurrencies/ceek-vr
Reddit: https://www.reddit.com/r/Ceek/
Github: https://github.com/ceekvr
WeChat: https://www.bancor.network/communities/5b0fdbac88cc9e000182ff0f/currency