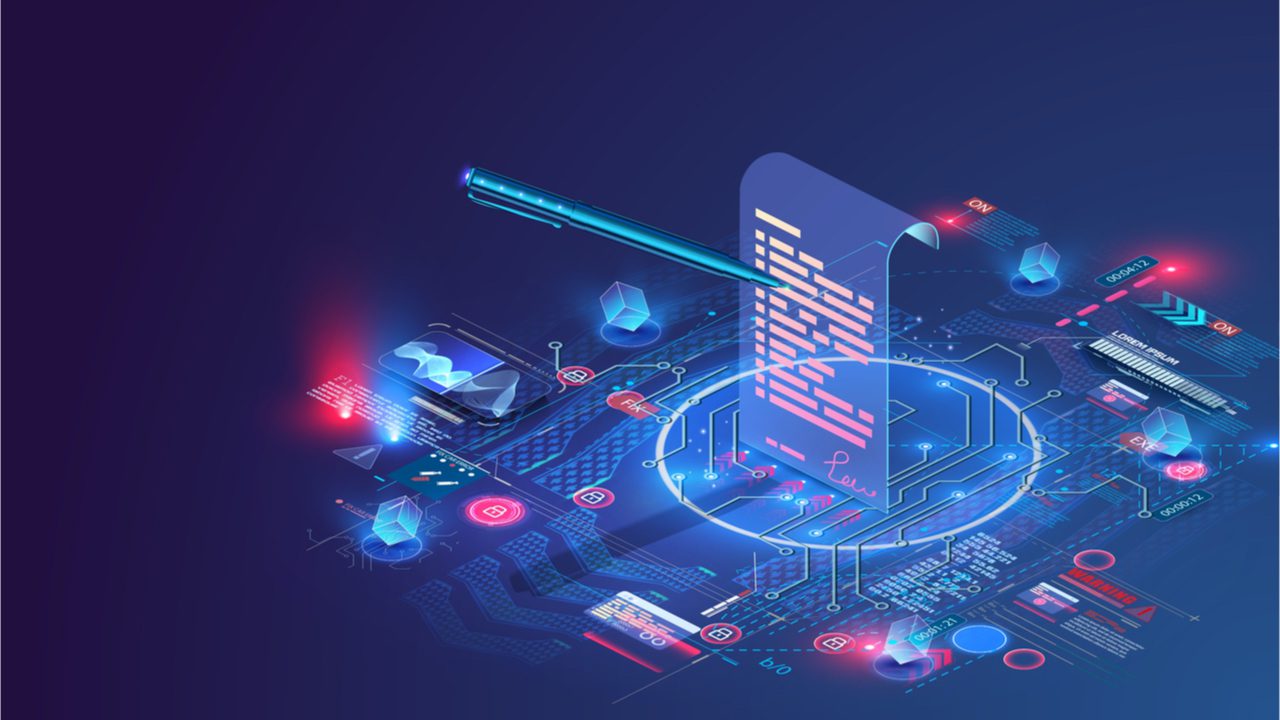 While the price of bitcoin has been volatile during the last seven days, a number of smart contract platforms have been performing far better this week. Statistics indicate that the total value locked (TVL) in decentralized finance (defi) is $267 billion and the TVL held on Ethereum commands the lion's share of this value. Ethereum is the largest smart contract platform today, in terms of market valuation, but a number of competitors have increased significantly in value over the last 12 months.
3 Smart Contract Tokens Surpassed Ethereum's 12 Month Gains by a Long Shot
The largest smart contract platform Ethereum (ETH) has a market valuation of around $555 billion and it commands 18.7% of the entire crypto economy's net value. Metrics also show that there's $267 billion TVL in defi today, and the Ethereum protocol captures $179 billion or 49.16% of the overall TVL in defi. In terms of trade volume, ether has $15.5 billion in global swaps today, which is much larger than its competitors. ETH has outpaced BTC in 12 month gains with 914% during the last year, compared to BTC's 299% increase in value.
However, a number of other smart contract platforms have outperformed ETH's 12-month stats. For instance, while solana (SOL) holds the fifth largest market capitalization, in terms of smart contract platforms it is the second-largest chain with an overall valuation of $71.2 billion. ETH's 914% 12 month gain is decent but SOL jumped 12,337% during the last year. Solana's market capitalization dominance is 2.39% on Saturday. The TVL held in defi on the Solana network is $14.22 billion, which is the third-largest TVL by chain below the Binance Smart Chain (BSC).
Cardano (ADA) is the third-largest smart contract platform with a market capitalization of around $66.5 billion today. ADA has also outperformed ethereum's (ETH) 12-month gains as ADA has risen 1,881% this past year. In terms of TVL in defi, metrics from defillama.com do not include any statistics for the Cardano blockchain. Cardano's market capitalization on Saturday is around 2.23% of the whole market economy. The fourth-largest smart contract platform in terms of overall market valuation is the crypto asset avalanche (AVAX).
5th Largest Smart Contract Token Chainlink Sees Smaller Gains Than Ethereum This Year
— LUNA and MATIC Climb in Value
Avalanche (AVAX) has a market capitalization of around $20 billion on Saturday and there's $625 million in global AVAX swaps during the last 24 hours. Avalanche is represented on defillama.com's chains market metrics, and is the fifth-largest defi chain in terms of TVL ($10.11B) under Terra. Avalanche is also under the market valuation of terra (LUNA) as AVAX holds the 13th largest market position. 12-month metrics indicate that AVAX too has outpaced ethereum's gains as AVAX climbed 2,598% year to date.
Chainlink (LINK) is the fifth-largest smart contract platform by market capitalization with an overall valuation of $15.9 billion today. The $15.9 billion puts LINK in the 15th market position out of the 10,000+ crypto-assets in existence. Unfortunately for 'LINK Marines,' chainlink has not outpaced ethereum in terms of gains. Year-to-date, LINK has gained 175% in value after hitting the crypto asset's all-time high six months ago on May 10, 2021. Still, in terms of smart contract platforms, the sixth-largest chain Algorand (ALGO) needs to jump 17.61% higher in order to surpass LINK's market valuation.
Other top-performing smart contract platform tokens include terra (LUNA) up 15,925% year-to-date, polygon (MATIC) jumped 10,859% in the last 12 months, and fantom (FTM) up 14,924% during the course of the last year. Top defi TVLs without mentioning ETH, SOL, AVAX, include blockchains like Binance Smart Chain ($21.07B), Terra ($10.91B), Tron ($6.45B), Fantom ($5.48B), and Polygon ($5B).
What do you think about the top five smart contract platforms by market capitalization and their market performances during the last 12 months? Let us know what you think about this subject in the comments section below.
Image Credits: Shutterstock, Pixabay, Wiki Commons, defillama.com,