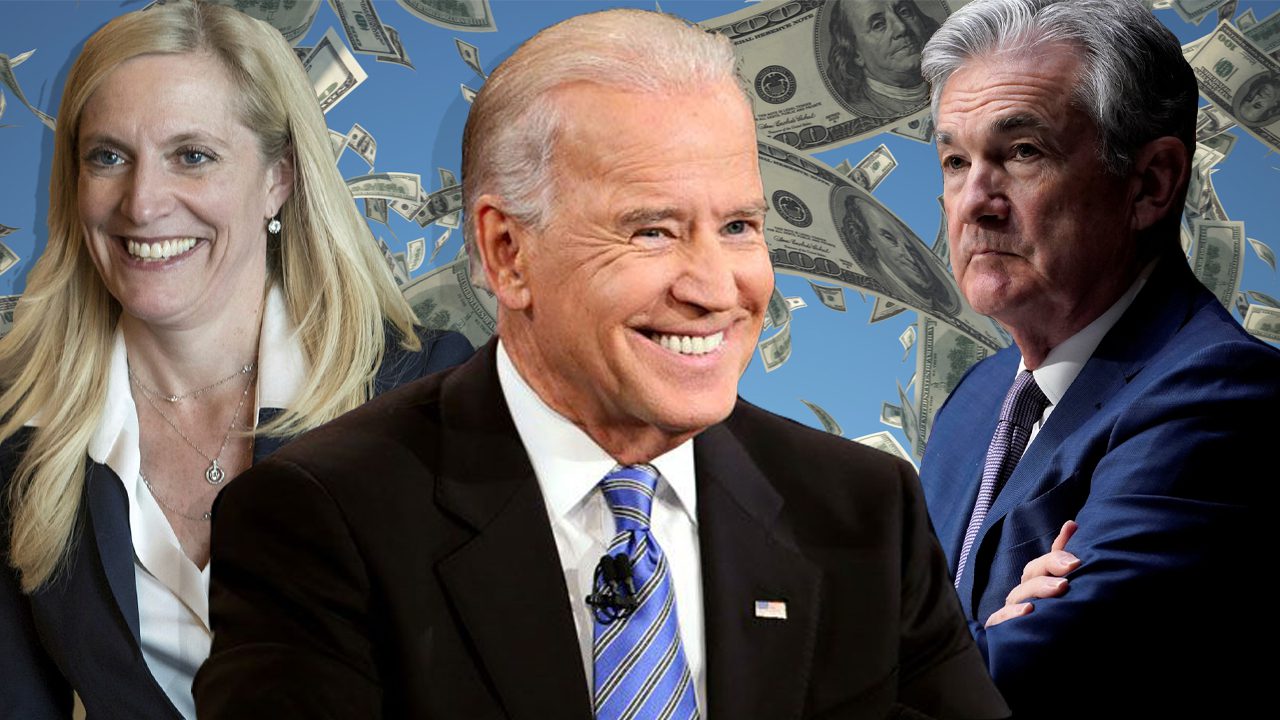 Following the passing of the Biden administration's infrastructure bill, the U.S. president appears to be nearing his decision on whether or not he will reappoint Jerome Powell, the current Federal Reserve Board chairperson. According to a few reports Powell may be chosen, but other reports say the Fed's Board of Governors member, Lael Brainard, could also be a frontrunner for the position.
President Biden to Choose Fed Chair 'Fairly Quickly'
Amid the rising inflation and supply chain woes, U.S. president Joe Biden is thinking about who will run the Federal Reserve when Jerome Powell's term ends next February. Media pundits say the timing "is crucial," as the U.S. central bank has been discussing tapering back quantitative easing (QE) and adjusting rates upwards. Of course, these have all been just conversations so far and the members of the Fed have yet to decide on tapering back large asset purchases and hiking the benchmark rate.
Meanwhile, rising inflation has reared its ugly head in the lives of Americans, and purchasing power has been eroding over the last 12 months. This week's data from the consumer price index (CPI) jumped 6.2% from a year ago and stock markets shuddered after the news broke. The latest CPI data even pushed Biden to make a statement about the rising inflation as the U.S. president said the White House would be focused on getting people back to work, "getting prices down," and "making sure our stores are fully stocked."
Now various reports say that Biden is in the midst of choosing a new Federal Reserve Board chairperson or planning to let Jerome Powell keep his post. CNN contributors John Harwood and Phil Mattingly explain that "[Jerome] Powell [is] seen as the frontrunner to be Biden's pick for Federal Reserve chair as he nears a decision." The CNN report notes that Biden's decision could happen as early as next week. It is also assumed that Biden will sign the new infrastructure bill on Monday.
Brainard 'More Aligned With Left-Leaning' Politicians, Financial Services Committee Members Urge Biden to Choose New Lead, Powell Still 'Favored' by 'Both Sides'
11 days ago, Biden spoke about his decision about the Fed chair position at a news conference and hinted at choosing "fairly quickly." "I've given a lot of thought to it, and I've been meeting with my economic advisors on what the best choices are, and we've got a lot of good choices," Biden told reporters. "But I'm not going to speculate now," the president added. Despite CNN's report, other editorials claim that Biden may choose the Fed's Board of Governors member Lael Brainard. Rob Garver, a contributor to voanews.com, says the recent inflation spike may sway Biden's Fed chair decision.
Garver highlights that Powell is a Republican and was chosen by former U.S. president Donald Trump. As far as Brainard is concerned, she is a Democrat and is "more aligned with left-leaning members of her party, such as U.S. senator Elizabeth Warren of Massachusetts," Garver details. However, Garver further explains that the current Fed chair is "favored" at the moment. Christopher Russo, a research fellow at George Mason University's Mercatus Center, told VOA's Garver: "Powell has built up a great amount of credibility with both sides, both Republicans and Democrats." Russo further added:
In the pandemic, the Fed adopted a flexible average inflation target, meaning that they are going to run inflation above target after periods where it ran below target, and Powell has done a lot of work to explain the importance of that policy to skeptics in Congress.
The reports concerning Biden choosing a new Fed chairperson soon follow the mid-September "sources with ties to Washington," saying that Biden will renominate Jerome Powell. However, three politicians from the House Financial Services Committee have been urging Biden to choose a new Fed chair who will address social justice and climate change. U.S. Democratic representatives Alexandria Ocasio-Cortez (AOC), Rashida Tlaib, and Ayanna Pressley stressed on August 30:
Under his leadership, the Federal Reserve has taken very little action to mitigate the risk climate change poses to our financial system.
The recently passed 1,600-page 'Build Back Better' infrastructure bill allocates around $550 billion toward fighting the alleged climate crisis in the United States. Despite the massive amounts of quantitative easing (QE) tactics and a benchmark rate suppressed at zero, Jerome Powell's efforts since being appointed by former president Trump may not be good enough for members of the Democratic party.
What do you think about Joe Biden possibly choosing a new Federal Reserve Board chairperson next week after signing the new infrastructure bill? Let us know what you think about this subject in the comments section below.
Image Credits: Shutterstock, Pixabay, Wiki Commons