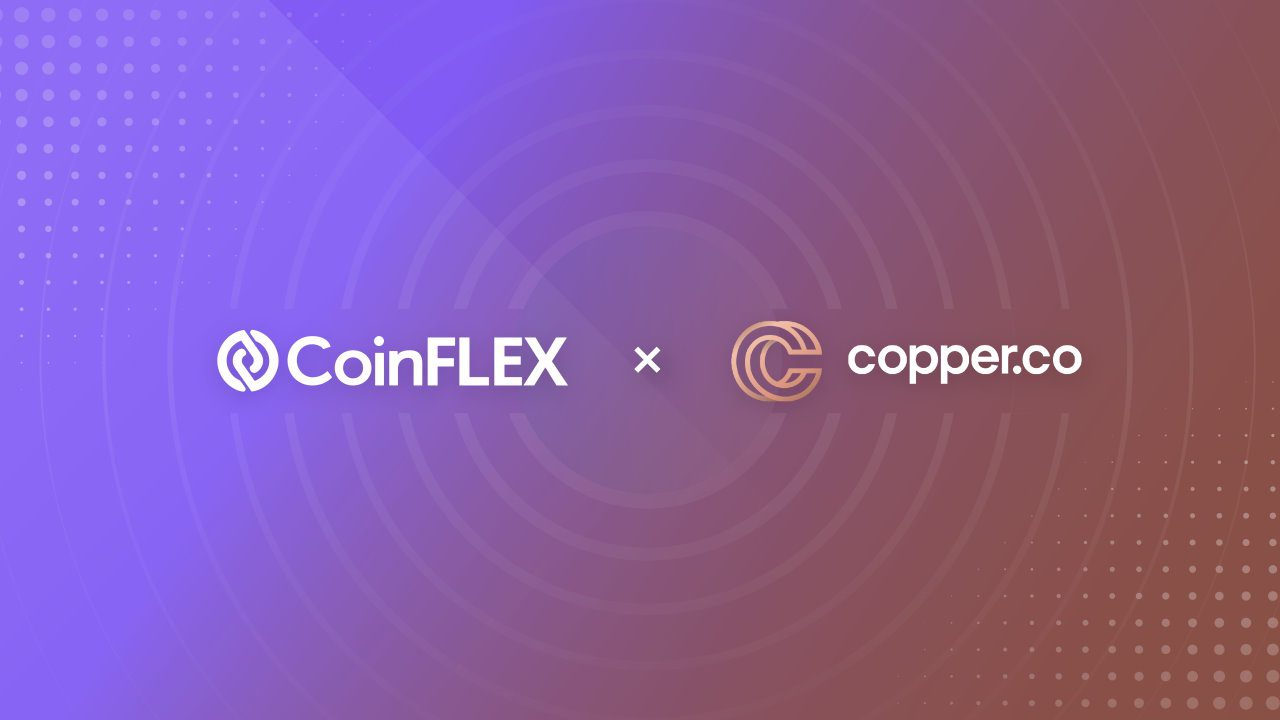 press release
PRESS RELEASE. SEYCHELLES, 15 November 2021 – CoinFLEX, leading crypto exchange and yield platform, has partnered with Copper.co, a global digital asset custodian and trading solutions provider by integrating with their ClearLoop instant settlement trading network.
The partnership expands CoinFLEX's crypto yield products to more institutional investors globally, starting with flexUSD, the world's first interest-earning stablecoin. This partnership will help accelerate flexUSD to a US$1 billion market cap by Q1 2022. flexUSD is currently paying 16% APY and has distributed $11 million in interest to holders over the past 12 months.
The partnership will enable Copper's 300+ institutional asset managers to trade flexUSD on CoinFLEX while securely storing their assets offline and off the exchange. The integration with ClearLoop adds an extra layer of regulatory assurance for institutional investors, while providing more crypto trading options to Copper's clients. ClearLoop connects exchanges like CoinFlex to traders and custodians – enabling one, secure trading loop, with instant settlement. Investors can settle digital currency transactions off-exchange – eliminating the need to deposit and withdraw assets from an exchange in real-time, securely maximizing capital efficiency.
"We are excited for this partnership with CoinFLEX, and for our client base to trade and earn from a crypto yield offering such as flexUSD," said Dmitry Tokarev, Founder and CEO, Copper.co. "This directly aligns with our commitment to ensure that institutional investors are offered a wide range of quality crypto products and can trade efficiently and securely on the Copper network."
For the first time, Copper's institutional clients can access a highly liquid, easily redeemable, yield-generating stablecoin via the Copper platform.
This integration is inline with CoinFLEX's efforts to advance expansion plans for greater institutional user adoption. This symbolizes the exchange's commitment to amplify liquidity and innovate, develop, and strengthen the CoinFLEX ecosystem.
CoinFLEX Q4 2021 key milestones
October 2021: CoinFLEX reached US$8 billion in daily trading volume with open interest exceeding US$ 350 million
November 2021: CoinFLEX's total repo market volume exceeds US$300 billion, pushing flexUSD's market cap to US$380 million
"Joining ClearLoop marks a major milestone for CoinFLEX as we begin to push our business expansion plans to increase institutional users," said Mark Lamb, CEO of CoinFLEX. "By enhancing the adoption of flexUSD through trading activities, it will also propel the credibility and increase the utility of the stablecoin across institutional users including hedge fund and asset managers whilst ensuring that they have a highly secure way of interacting with us."
About Copper

Founded in 2018, Copper helps bridge institutions into crypto by offering custody, prime brokerage, and settlements across 250 digital assets and more than 40 exchanges. Copper's unique crypto products and multi-award-winning custody allows clients to safely acquire, trade, and store cryptocurrencies, including access to margin lending trading facilities and the DeFi space.
ClearLoop is at the core of Copper's infrastructure and connects a broad network of exchanges together in one secure trading loop and with instant settlement across networks.
About CoinFLEX
Founded in 2019, CoinFLEX is the Home of Crypto Yield and is committed to providing institutional and retail investors an easily accessible platform to earn and trade crypto.
CoinFLEX creates innovative solutions to bring investors and crypto markets together through intuitive yield products such as flexUSD, the world's first interest-earning stablecoin, and AMM+, the most-capital efficient automated market maker in the world. CoinFLEX is backed by crypto heavyweights, including Roger Ver, Mike Komaransky, Polychain Capital, and Dragonfly Capital.
Telegram | Twitter | Discord | LinkedIn | Facebook | Youtube | Reddit
---
This is a press release. Readers should do their own due diligence before taking any actions related to the promoted company or any of its affiliates or services. Bitcoin.com is not responsible, directly or indirectly, for any damage or loss caused or alleged to be caused by or in connection with the use of or reliance on any content, goods or services mentioned in the press release.
Image Credits: Shutterstock, Pixabay, Wiki Commons