Advertisement
&nbsp
&nbsp
Key takeaways
Bitcoin whale activity is nearing levels last seen in 2017, CEO of CryptoQuant, Ki Young Ju reveals.
His observation is coming after Glassnode noted that Bitcoin on-chain activity was recovering.
Market sentiment for Bitcoin remains bullish amid bear storm.
According to the CEO of Cryptoquant.com, Ki-Young Ju, Bitcoin whale activity is building up momentum massively. He presents on-chain data that supports his claim, adding that the average Bitcoin transaction volume shot up by around 500% in a short period, with most of the big transactions not coming from cryptocurrency exchanges. As observed by the analyst, the whale activity matches with levels last seen in 2017 where it coincided with equally a large bull run for the Bitcoin market.
While he did not throw more context for the observation, it stands to reason that it may imply that the market is set for a gargantuan shake-up in the coming days just like many analysts are also predicting.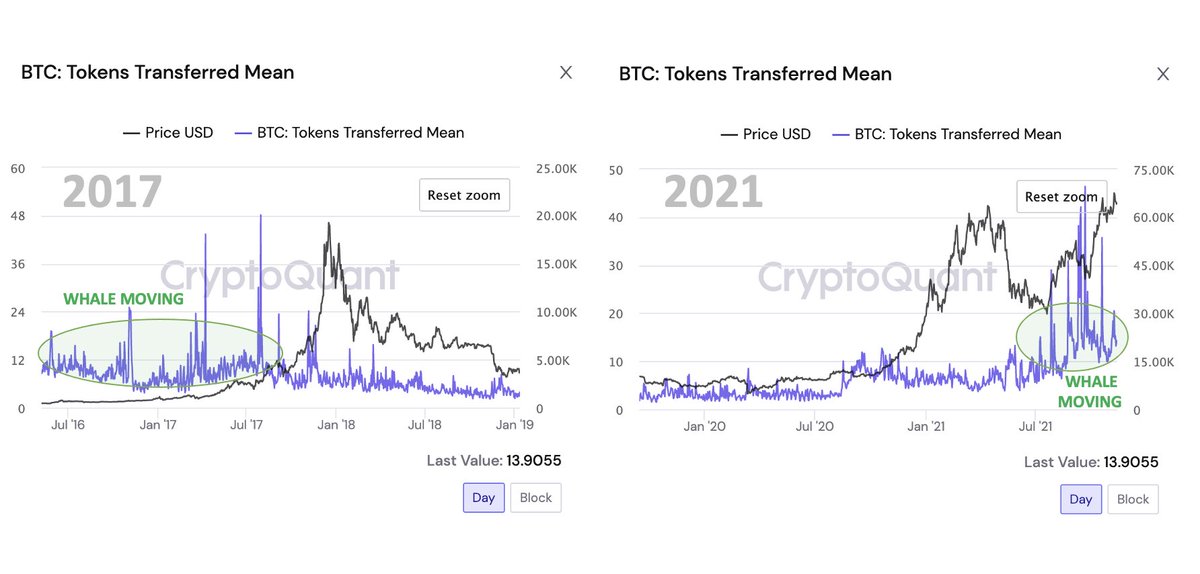 His observation comes after leading on-chain monitoring firm Glassnode made a similar observation in their last market report. Glassnode pointed out that on-chain activity on the Bitcoin network was recovering gradually, but was still at levels "seen throughout the 2019-20 bear market."
They also note the current Bitcoin market dynamic was indicative of smart money accumulation and that Bitcoin exchange outflows have accelerated recently, with more than 5000 Bitcoin leaving exchanges daily which has resulted in the aggregate Bitcoin exchange balance falling to a low of 12.9% of the circulating supply of Bitcoin. These indicators are fuelling speculations that the price of Bitcoin could still tag $100,000 before the year runs out.
Advertisement
&nbsp
&nbsp
$100,000 Bitcoin price predictions still in play
One analyst who has made and maintained this stance is the creator of the Bitcoin stock-to-flow valuation model, PlanB. He recently reiterated that his price prediction of Bitcoin hitting $98,000 this November and $135,000 by December were still in play even if Bitcoin is currently trading below $65k. His predictions have notably checked in the last few months.
The largest cryptocurrency by market cap, Bitcoin, has maintained its dominance in the market. Bitcoin is currently trading at around $60,327, down 8.71% on the day and 11.43% in 7 days. There are several price predictions for Bitcoin to reach $100,000 before the year runs out as the market shows very strong signs of resilience.
One other catalyst that is contributing to the market resilience is the recent Taproot Upgrade which went live on Sunday. The upgrade is bitcoin's first since 2017 and brings a lot of innovations around privacy and security for Bitcoin.