Advertisement
&nbsp
&nbsp
Founder and CEO of Real Vision and Global Macro Investor, Raoul Pal, has predicted that Ethereum is set for a massive run-up that could see its surge between 100 to 300% before the end of 2021. His prediction is based on a custom index he created on Bloomberg that compares the current Ethereum market to the 2017 Bitcoin market.
The investment strategist in a Twitter thread today noted that the chart was accurate in predicting the recent market sell-off "to the day and price." Having been accurate in that, the next "probable" event he expects is a 300% rally towards the end of the year. Pal concedes that nothing is certain, however, but higher prices are expected.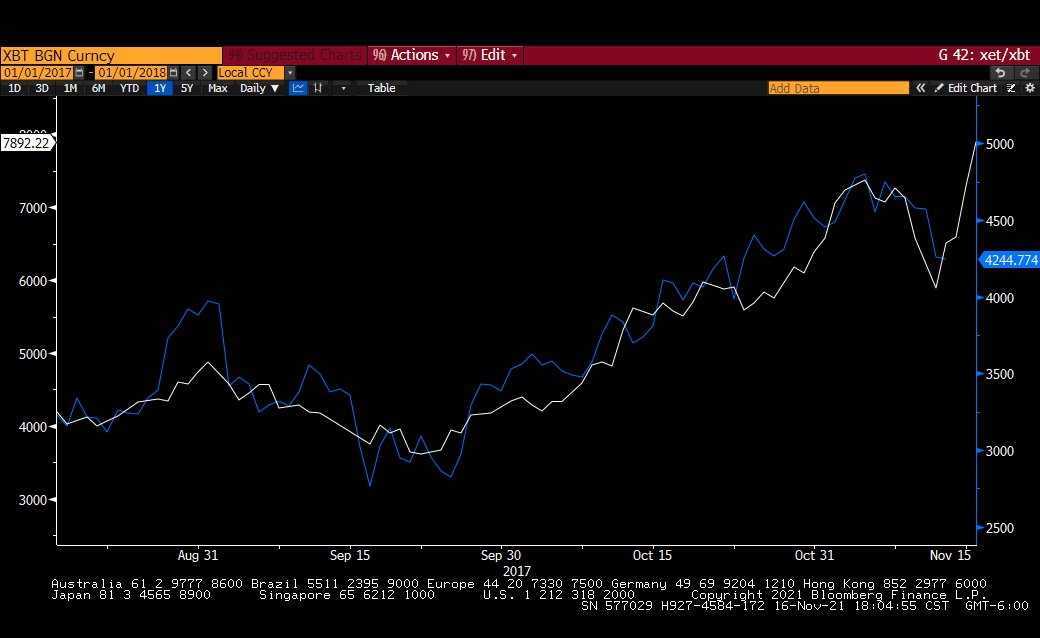 Raoul Pal remains very confident in ETH
Pal has been a notable Ethereum proponent and has revealed that ETH made up about 70% of his portfolio. He has repeatedly expressed support for the second-largest blockchain network, even expecting it to outgrow Bitcoin in the long term.
The major reason for his stance is the growth potential he considers the Ethereum network to have over Bitcoin. He even recently pointed out that Ethereum was closing in on Bitcoin if the ETH/BTC price index – in which ETH had posted some 100x growth versus Bitcoin in the last six years – is looked at.
Ethereum's recent market performance however contradicts his speculation as ETH was one of the biggest losers during the recent market sell-off that shaved off around $300 billion in the crypto market. Gains made in the last seven days in trading ETH have been wiped as it is down 12.1% in the time frame. On the day, ETH is down around 2.9%, currently trading around $4,200.
Advertisement
&nbsp
&nbsp
Ethereum outpacing Bitcoin in performance
Over the long term, ETH has been impressive. Year-over-year (YOY) and year-to-date (YTD) the digital asset is up 757% and 460% respectively. It has outperformed Bitcoin which has grown 234% YOY and 103% YTD.
It appears that Ethereum based financial investment products have been outperforming their Bitcoin-based counterparts. In Grayscale's Q3 SEC filing, the leading assets manager reported that Ether-based holdings among institutional investors were up by 19% while its GBTC Trust shares sales dropped 2.6%. Their report also noted that some institutions like Outlook Wealth Advisors LLC were even ditching their GBTC holdings entirely.
The stellar performance of Ether has been fueling bullish price predictions and positive market sentiment. Pal's previous Ether price forecast was that it would hit $20,000 by March 2022. Others expect it to reach $10,000 before the end of the year. The sentiment that Ethereum will flip Bitcoin to become the biggest cryptocurrency by market cap is also still very much alive in the market.