The Ancient Warriors Empire is a collection of 4,444 fierce warriors from great African and Latin American empires. We are the first profile picture collection primarily focused on cultural history.
The mission is to onboard underrepresented communities into Web3.
Mint Date: December 1, 2021
Who is building this and why?
The vision first took root in the heads of two of our founders who are best friends who went to school together at Princeton University. As Nigerian and Ecuadorian Americans, they strongly connected on how African and Latin American cultures are repressed and misrepresented in mainstream media and tech.
The founders built tech startups in their respective countries. They learned about the past empires in these lands and marveled at the heights that these civilizations reached. They resolved that if it was done before, it can be done again. Thus, Ancient Warriors was born to highlight the greatness in our cultures and the cultural riches that have been hidden over centuries. We embrace the Warrior mentality, building the strength to replicate and reimagine this past greatness.
Where does Web3 come in?
The remains of these empires serve as our reminders and building blocks to achieve what our ancestors achieved. Though their relics and treasured cultural artifacts currently sit in Western museums in the physical universe, the Ancient Warriors ethos is that we can literally take them back in the metaverse through our NFTs.
There are very few chances in history where mass wealth redistribution can occur; we believe the cryptocurrency revolution is one of these moments. Ancient Warriors is building a new-age, decentralized empire of underrepresented peoples to ensure that all communities can benefit from the opportunities within Web3.
How are underrepresented communities welcomed?
Currently, there is very little ethnic representation in the NFT and overall Web3 space. Most people of color find it difficult to engage in this industry, as a place has not been carved for us.
We solve this by designing primarily based on this ethnic representation. 3 Artists fused a blend of Afro and Latin American styles to design 200+ traits, each of them unique to a specific culture and gender combination. From there, each NFT is programmatically generated.
Nearly all our traits have been derived from historical research. In that sense, we are artistically illuminating cultures that are currently underrepresented in the space and forming a community around it that is open to all. The collection is akin to a virtual museum — one that is For Us and By Us.
We have a Legion of Warriors ready to serve the broader Web3 Community
Where are things now and when is launch?
The technology is complete and tested along with the majority of our design work. We are focused on marketing and community building as we prepare for launch in December.
The community has grown organically without paid marketing and we've conducted several immersive on-theme activities, such as a Treasure Hunt along with contributing to broader conversations in the Web3 space.
What is the roadmap?
Community Treasure Hunt (done) — Educating the wider NFT community on the value and relevance of our culture and importance of restitution by calling on museums to return specific treasured artifacts from our 4 cultures.
Private Alpha Group for Wealth Building (current) — Instituting a group primarily for sharing of profitable opportunities in the NFT space and cryptocurrency for underrepresented people who are unfamiliar with these opportunities.
IRL NFT Gallery Events — Hosting events to connect and unite our communities in real-life (primarily in LA, Miami, and Lagos, Nigeria where founders currently reside).
Institute WarriorDAO — We will dedicate 50% of secondary sales to a community wallet, which will be governed by Ancient Warrior holders. We will vote on investments to make in the space such as blue chip NFTs (with fractionalized ownership), supporting black & brown creators, donations, and other projects as decided by the community.
Release Short Film — We will direct and release a short animated film tied to the theme of Ancient Warriors, depicting the progression of our people first from wealth to invasion and oppression to eventually re-forming with the advent of Web3 — to build a Great Decentralized Empire.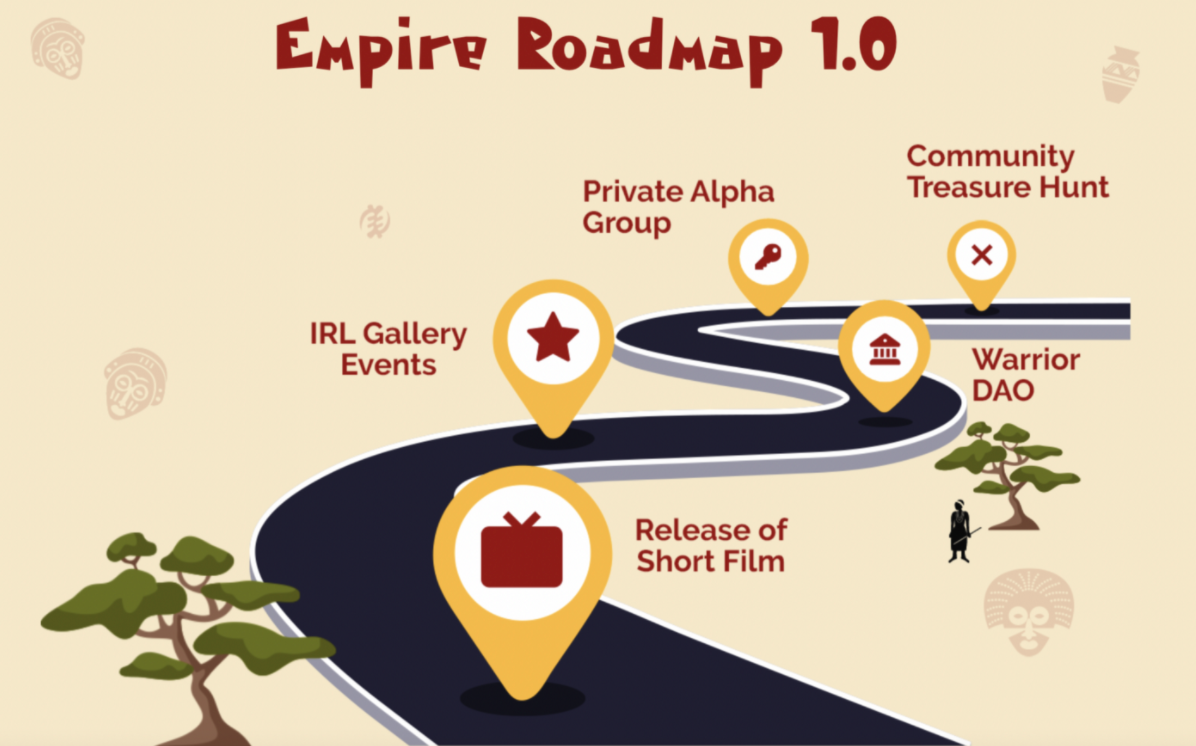 Final Words
To those in the community struggling to find a place for themselves in this space: Ancient Warriors is assembling a legion to guide and stand behind you in the emerging new world. Join Ancient Warriors as they build the great empires of tomorrow.
For more information visit; Discord | Twitter | Website.
Disclaimer
All the information contained on our website is published in good faith and for general information purposes only. Any action the reader takes upon the information found on our website is strictly at their own risk.