The countdown is over, as the Sandman Finance novel adventure concludes with the Presale of the seventh layer, Death Farm! If you're looking for a secure and stable yield farm in the Polygon Network with high APYs and a dedicated Dream Guardian Team dedicated to the development, you've come to the correct spot. Sandman Farm represents an excellent investment opportunity.
During the first few months, a rapid strategy was established to make this farming platform profitable, incredibly efficient, and a smashing success. A lot is going on with the Sandman Finance team. And we want to share them with the rest of the community so that everyone can share in their happiness. Don't skip out on the Death Farm's pre-sale.
Sandman Finance is ending on a comic adventure, revealing layers upon layers of information. After the public Pre-sale of the Death Token, now is the time for the pre-sale of death farm that begins soon! To get more information about the death farm, continue reading the article.
What Is Sandman Finance?
The Polygon Network powers a safe and secure Yield Farm, NFT Profile, NFT Battles, NFT Farm, and Gambling. They have fantastic APRs and a committed Guardian Team that has spent years researching safety from many sources. The best possible outcome for their community has always been a powerful drive.
Pre-sale of Sandman Finance Layer 7 Death Farm
With the advent of Sandman Finance, layer fourth Destruction, they have completed stringent assessments to develop a security system for their community. For this coin launch, they adopted a pre-sale strategy. This is the most effective method for increasing liquidity.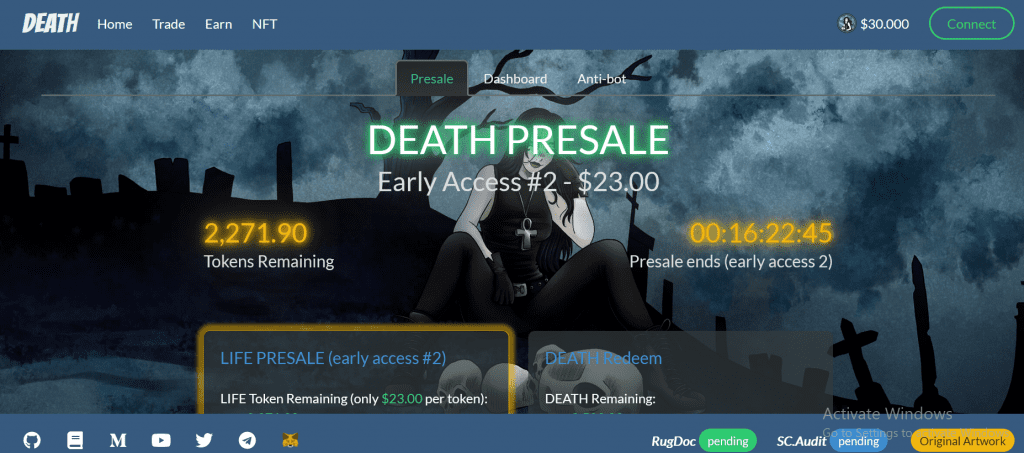 They employ their Anti-Bot System to assure security. Sandman Finance Layer 7 now includes the Anti-bot Tool, a security feature used in a project. The primary goal of this feature is to protect startup liquidity against bots.
The Presale began on January 23rd, 2022, at 15:00 UTC. The NFT pre-sale started on January 23rd, 2022, at 18:00 UTC and will finish on Wednesday, January 26th, 2022, at 15:00 UTC.
• Provided Liquidity (Manual)Thursday, January 27th, 15:00 UTC
• Swap Pre-Sale Token January 27th – 16:00 UTC
#The Death pre-sale is divided into three stages:
• First Early Access: $20 for the first 24 hours
• Second Early Access: $23 for the first 24 hours
• Final Presale Trophy Sale: $25- Last 24 Hours
The total target is $50,000-$62,500; with a $5,000 market cap each investment. The initial liquidity is provided at the cost of $30 per death. Although the pre-sale had started a few days back, the pre-sale of death farm token is still going on and will continue to make it a successful journey.
Token of Death
Death Token is the fifth layer farming token in this strategy. The third of seven tokens, one for each volume tier, is the death token.
• Farming Death will get you rewards.
• Place a bet on Death on Vaults to win USDC and other prizes.
• If you want extra incentives, you should wait until Layer 7 dies.
The farming of death tokens begins on Sunday, January 30th, 2022, at 15:00 UTC.