Source : zycrypto.com
Advertisement
&nbsp
&nbsp
Key Takeaways
Bitcoin has not yet reached a cyclic bottom according to Ki Young Ju, CEO of CryptoQuant.
He draws his judgment from Bitcoin's MVRV ratio, which is currently trending lower.
While the metric is bearish, bullish sentiments continue to linger in the market.
Bitcoin's price has been in free fall in the last few days, plunging below $33,342. According to a market indicator pointed out by Ki-Young Ju, the CEO of crypto analytics boutique CryptoQuant, the bottom of the market may be lower than recent price levels. The indicator he notes is the Market Value to Realized Value (MVRV) ratio which usually marks the cyclic bottom.
Bitcoin's price drop is still some ways off from the bottom according to this indicator.
Bitcoin has dropped 13.7% in the last 7 days, currently trading at around $36,800. The market slide is defying many explanations and expectations as it has fallen through the support levels a lot of analysts have estimated. New evidence now indicates that this metric may be able to tell the bottom price of Bitcoin.
Ki-Young Ju has noted that the Market Value to Realized Value (MVRV) ratio can be used to mark the cyclic bottom of the market. At the moment, the MVRV ratio stands at 1.50 and indicates that Bitcoin wallets collectively still have over 50% unrealized profits. Historically, when this metric drops below a value of 1, it has marked possible bottoms in the market and has led to a trend reversal to upwards price movements.
Advertisement
&nbsp
&nbsp
"MVRV is currently 1.50, which indicates #Bitcoin wallets still have +50% unrealized profits. If this is the end of the bull cycle, we should keep our eyes on this classic indicator to catch the cyclic bottom. Historically, the cyclic bottom comes when MVRV reached below 1," Ki-Young Ju said in a tweet.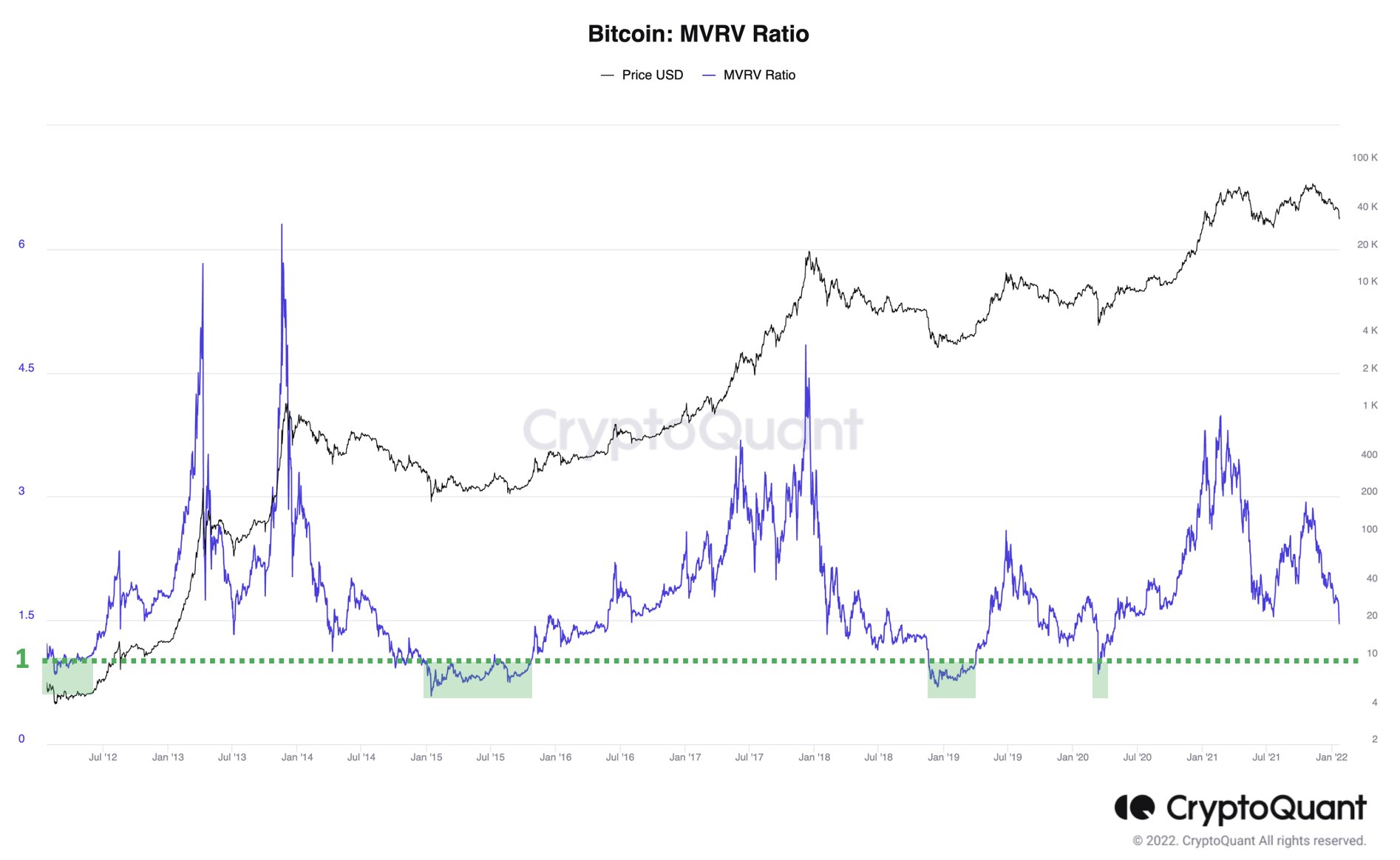 While MVRV reaching a value of 1 may be a good time to take a gradual long position, Ju still warns that it does not perfectly mark the bottom as the market has also bottomed out when varying percentages of wallets were in loss. He notes several cyclic bottoms that were reached below an MVRV of 1 to include:
"2020/03/12: 0.85 (-15% loss)
2018/12/14: 0.69 (-31% loss)
2015/01/14: 0.58 (-42% loss)
2012/02/18: 0.84 (-16% loss)."
In general, CryptoQuant describes the metric as a useful tool to use in getting a sense of whether the price is fair or not.
What other analysts are saying
While the current trend of the MVRV ratio is bearish, market participants have not given up hope and have been identifying underlying bullish signals in the market including increasing accumulation and declining exchange balance.
Market sentiment is also mixed as investors are both bearish and bullish. According to Benjamin Cowen, the host of Into the Cryptoverse YouTube channel, Bitcoin can still rise to over to clinch $100,000 by the end of 2022.