Source : beincrypto.com
https://s32659.pcdn.co/wp-content/uploads/2022/01/shutterstock_745302283-ink.jpeg
McLaren dropped some rather fly digital collectibles last year. Formula One fans were all over it, and fanatically collected the 3D-components of a Formula One car. Now there's a new way to trade them.
The McLaren Racing CAD system split the McLaren MCL35M Formula One car into 22 collectible 3D components. Punters could purchase digital car parts minted on the energy-efficient Tezos blockchain. If they got all 22 pieces, they could build their own 3D MCL35M collectible. And, one guy did exactly that. The superfan managed to secure all 22 pieces – you can check out his completed car here.
This week, McLaren are unveiling a new NFT drop. McLaren Racing Collective fans can now get their hands on a Gulf-Liveried MCL35M.
Working with them on this NFT exploit, is Sweet.io. This week, Sweet launched a user-to-user NFT marketplace. This gave fans exclusive access to the second McLaren Racing Collective NFT drop.
The marketplace was designed to reduce barriers to entry, and fans can trade directly with each other. This improves their chances of collecting all 22 pieces. They can also auction off unwanted parts. Or flog their completed cars.
McLaren's user-to-user NFT marketplace
To use most NFT marketplaces, users need a basic understanding of how to set up, fund, and transact in the NFT space, using a browser-based cryptocurrency wallet. The complexity of this can stop people entering the market.
The Sweet marketplace aims to reduce complexities by guiding sellers and buyers through a simple verification process. This aims to eliminate malicious activity and ensure fair and accessible auctions. Once verified, sellers are guided through the process of integrating a blockchain wallet to receive funds. They can set a duration for the auction, set a minimum starting bid, and list their McLaren Racing collectibles for sale. The free market decides what the asset is worth.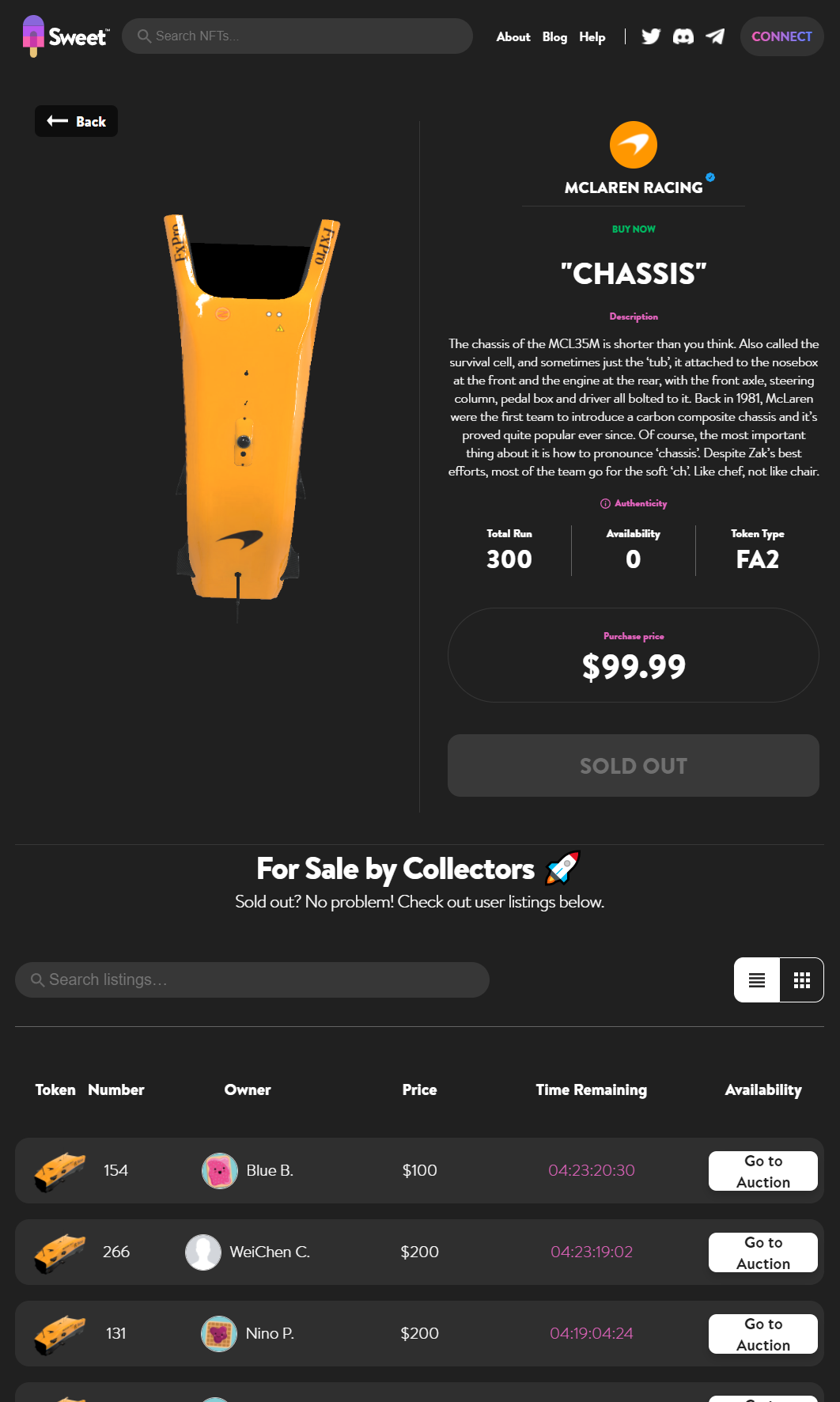 The Sweet platform has hosted other NFT campaigns, including Macy's, Burger King, the Chicago Blackhawks, and Dave & Buster's.
Tom Mizzone is the CEO of Sweet. He said that the first McLaren Racing Collective NFT drop showed that fans loved the swapping part of the process. So they made it easier for them. "Instead of swaps taking place off-platform, through creative deal-making via Discord and Venmo, Sweet is now able to offer McLaren Racing's highly-engaged 10,000+ Discord community the ability to transact with verified users."
As for McLaren cars, we would all prefer to be driving the real thing. But in the meantime, there are NFTs.
Got something to say? Write to us or join the discussion in our Telegram channel.
Disclaimer
All the information contained on our website is published in good faith and for general information purposes only. Any action the reader takes upon the information found on our website is strictly at their own risk.