If you plan on collecting or trading a substantial amount of crypto, it's time to think about getting a crypto wallet – the safest place to store your digital assets. As the market surged in April 2021, transaction requests skyrocketed and led to heavy traffic on chains. The price of ETH soared from $700 to $4000 and as a result, gas fees became much more expensive. That being the case, the layer 2 solution Polygon (MATIC) built in 2019 turned out to be a white knight for the ETH public chain. Interestingly, Polygon then gained investment from billionaire Mark Cuban and took center stage in the market.
What Is a Polygon Wallet
Polygon is a technology platform that enables blockchain networks to connect and scale. While Polygon was originally designed as an extension plan to take on extra transactions from the Ethereum public chain, increase throughput (transaction speed) and reduce gas fees, it interestingly developed into a rich ecosystem in a timely manner.
Polygon Wallet is a wallet used to store MATIC and token standards supported on Polygon's blockchain platform. You can send and receive MATIC and other tokens as well as interact with applications on this platform. In particular, this wallet is owned by you and no one has the right to monitor it other than you.
Current Polygon Ecosystem
At present, Polygon is the eighth largest public chain in terms of its TVL, accounting for 2% of DeFi's total TVL, following Solana and Tron. Despite the fact that Polygon's current TVL is $3 billion, it has grown from less than $50 million to a maximum of $10 billion in 2021, which shows its rapid ecosystem development.
In addition, according to the browser of Polygon, data shows that the highest number of transactions on Polygon last day reached 441.19million, and the total number of addresses reached a historical high. Even if we take multi-address for individuals into consideration, it can still be inferred that Polygon's ecosystem has attracted a considerable number of encrypted users. So, is there a Polygon address that belongs to you?
If you are a fresh starter of the new public chain and have not joined Polygon yet, then we recommend the following 5 hottest Polygon wallets, which can get you involve in a whole world of popular projects on Polygon with ease.
Five Hottest Polygon Wallets
MetaMask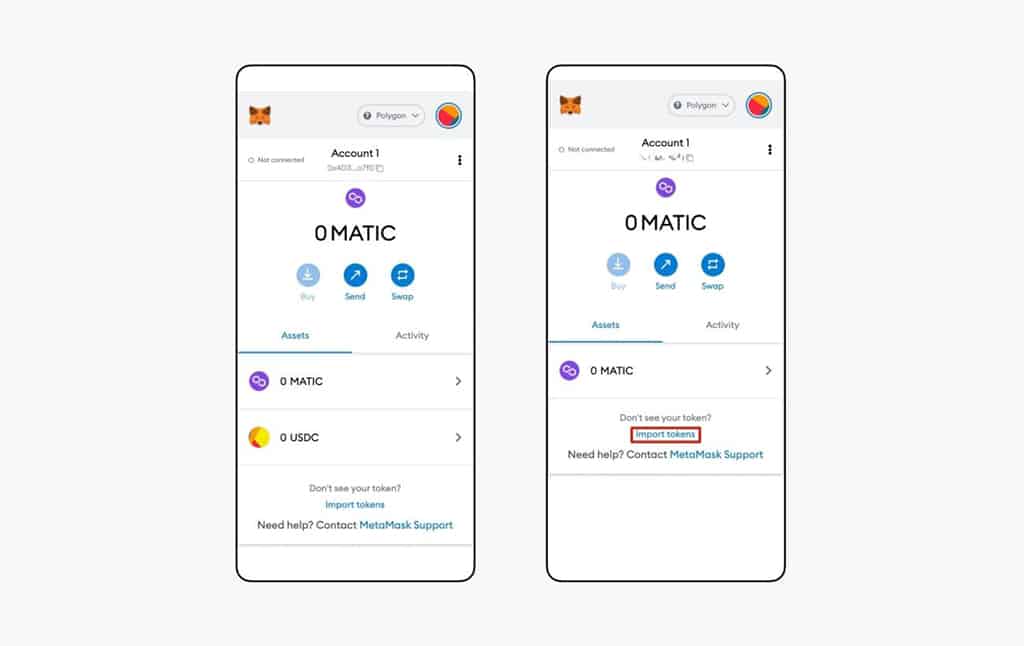 MetaMask is a browser-based multi-chain wallet plug-in that helps users easily manage their digital assets. There is no need to download and install the client side and it can simply be used by adding to the browser extension. It is very convenient and currently supports Chrome, Firefox, Brave, and Edge browsers. One of the pros of MetaMask is that as long as there are on-chain operations compatible with EVM, your assets can be stored in MetaMask via popular chains such as Ethereum, BSC, Avalanche, and Polygon.
If you wish to access DeFi, NFT and other projects on your PC side, it is recommended to install a MetaMask plug-in wallet first, and then kick-start your on-chain investment in a decentralized world. At present, MetaMask supports Polygon's mainnet token and its ecosystem. Users can store and trade other non-mainnet tokens MATIC through MetaMask.
Numbers of main chains enabled: 100+
Swap enabled
NFT enabled
Customer support: unavailable
BitKeep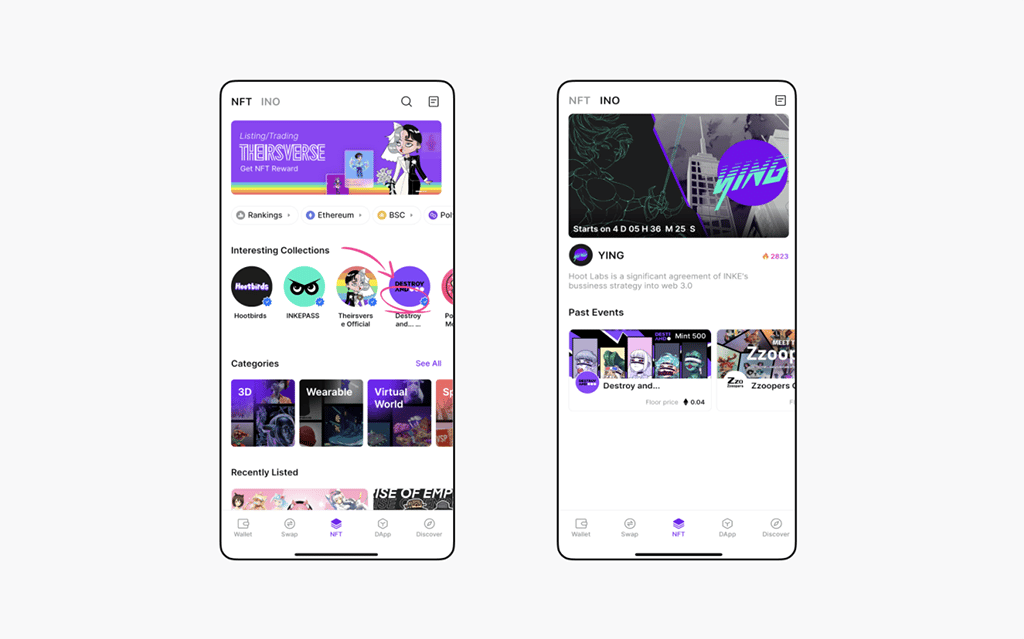 BitKeep is a decentralized multi-chain digital wallet dedicated to providing global users with a safe and convenient one-stop digital asset management service. Currently, it has served more than 5 million users in 168 countries. BitKeep has partnered with top 30 chains including Polygon (MATIC), Solana (SOL), Binance Smart Chain (BSC), Ethereum (ETH), HECO, OEC, TRON, Fantom (FTM), Wax, IOST, Avalanche (AVAX), zkSync, and has become their officially recommended wallet. Bitkeep supports 70 + main chains, 15,000 + DAPPs and 250,000 + cryptocurrencies, aiming to provide users with the most convenient and easy-to-use decentralized portal.
It is worth mentioning that BitKeep has officially forged a strategic partnership with Polygon. In addition to creating a Polygon wallet with one click and accessing all DApps in the ecosystem, BitKeep also supports cross-chain deposit and withdrawal of assets on the Polygon (Matic) mainnet. Users can easily convert the assets of the ETH mainnet to the Polygon mainnet and join the Polygon ecosystem.
Numbers of main chains enabled: 70+
Swap enabled
NFT enabled
Customer support: 7×24H
Coinbase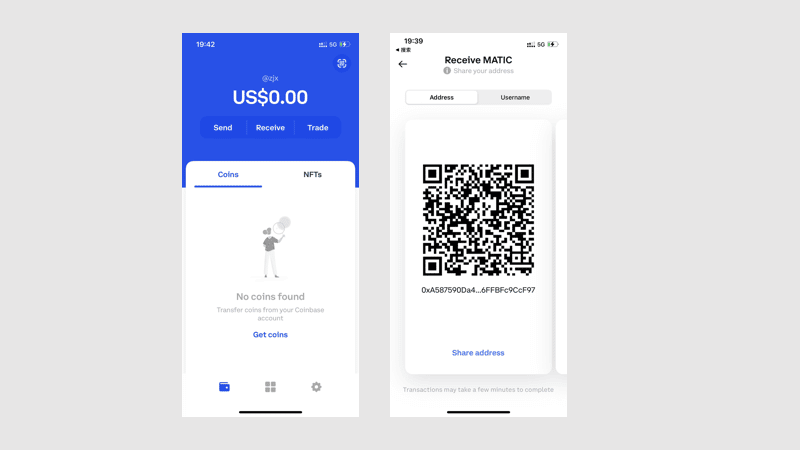 Coinbase is widely recognized as a popular crypto wallet. We can securely buy, use, store and receive Bitcoin, ETH and other tokens. Furthermore, it supports the purchase of cryptocurrencies with credit or debit cards in over 90 countries. Coinbase Wallet's vision is to provide a safe and reliable platform that allows anyone to easily and securely use digital currencies anywhere, and users can store all their digital assets and NFTs in the same place. It should be reminded that Coinbase currently supports Polygon's mainnet tokens only, and does not accept Polygon ecosystem for the time being, which means it does not support non-MATIC tokens.
Swap enabled
NFT enabled
Customer support: 7×24H
Trust Wallet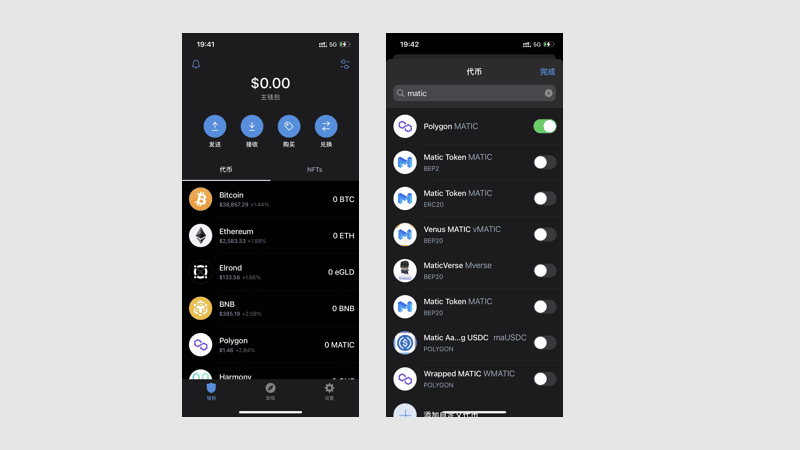 Trust Wallet is Binance's official crypto wallet. It is a secure, open-source and encrypted mobile wallet application that can store over 20,000 different ERC20-based tokens. Users can use the Trust Wallet App to securely send, receive and store Bitcoin as well as many other digital assets. You can even use Trust Wallet to earn cryptocurrency interest, play blockchain games and access the latest DApps and DeFi platforms. Trust Wallet currently only supports Polygon's mainnet tokens, and does not support Polygon ecosystem for the time being, which means that non-MATIC tokens are not supported.
Numbers of main chains enabled: 45
Swap enabled
NFT enabled
Customer support: unavailable
Coin98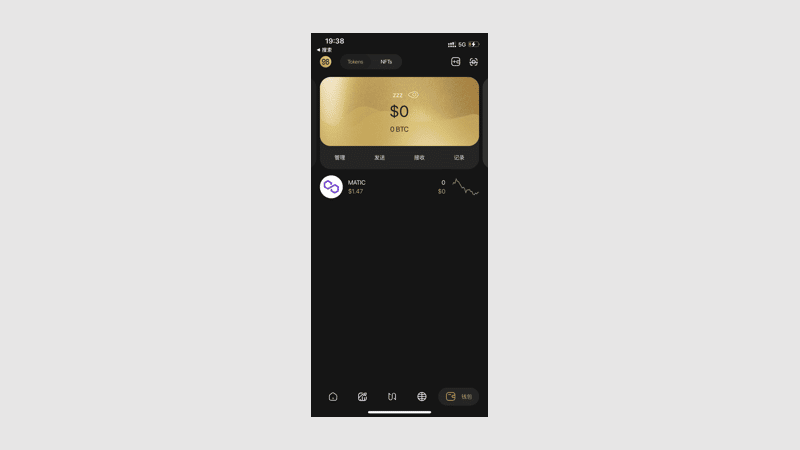 Coin98 Wallet is a non-custodial crypto wallet that gives users complete control over their keys, addresses and funds. Coin98 Web Wallet syncs with Coin98 Extended Wallet, providing users with abundant choices to interact with the entire Coin98 ecosystem.
Users can send and store various coins/tokens via Coin98 wallet. Transaction speed and gas fees have been optimized to provide the best trading experience for users. Coin98 Wallet is a crypto wallet for storing, sending and receiving multi-chain digital assets. At present, Coin98 supports Polygon's mainnet token and its ecosystem. Users can store and trade non-MATIC tokens through Coin98 wallet.
Numbers of main chains enabled: 36
Swap enabled
NFT enabled
Customer support: 7×24H
Read More
Conclusion
To sum up, each wallet has its own perks and can be chosen based on your need and these wallets provide the best security for your buck.
The Ethereum blockchain has its disadvantages, such as low throughput, high gas fees, proof-of-work (PoW) deterministic latency, etc. At present, the Layer2 solution Polygon has relatively mature applications to tackle these problems. It builds and connects the protocols and platforms for the Ethereum-compatible blockchain network, and aggregation on Ethereum can support the Ethereum multi-chain ecosystem. Anyway, hope everyone can find the right Polygon wallet.
Subscribe to our telegram channel. Join