What happened to Play to Earn, GameFi, and Metaverse in the Q2/2022 will be covered in the report.  A brief on the State of GameFi Q3/2022, projections and beyond.
Key Takeaways:
The money investment into Web3 Gaming and Metaverse is still abundant and even more diverse
Metaverse continues to expand in quantity and quality, bringing Web3 closer to life
Microsoft bans NFT and the attitude of the giant gaming companies has become complex
Web3 gaming is welcoming outstanding names that promise to reshape Web3 gaming in the future
The Blockchain focused on only Web3 Gaming is taking more market share of category
Introduction
After the negative information from the macro indicators, the world economy has really entered the crisis phase. This has been specifically reflected through price fluctuations of the stock market as well as cryptocurrency.
Once expected to become a driving force for the whole market, GameFi/Play to Earn (P2E) is showing clear signs of decline since the beginning of 2022.
After the first half of 2022, P2E has shown that the heat has not decreased even though the general market is not very positive, so what will happen in Q3?
This quarterly report aims to provide a comprehensive and accurate market macro trend, allowing Gamefi enthusiasts to have a better grasp of the current Gamefi market. It is believed that the bull market belongs to Gamefi in the near future.
Network Activity
On-chain Activities
Marketcap of Category, Price Performance
There was a slight increase from $4.5B to $5B in Q3. However, most of the projects showed signs of decline in price in Q3 (The increase was influenced mainly by many new top-cap projects)
Trading Volume
Not as active as before (Reduced from $2B daily trading volume to less than $1B)
Daily User
Down from 5.81M to 3.54M  (September saw a big drop)
P2E Market Share
WAX and Hive based on on-chain data are the two blockchains with the most positive changes. 
Surpassing Solana, BNB Chain, and Poygon, these two platforms are solely focused on gaming. 
Spotlight
Fundraising
Smart money keeps pouring into NFT/Web3 gaming, it takes over a third of the total investment.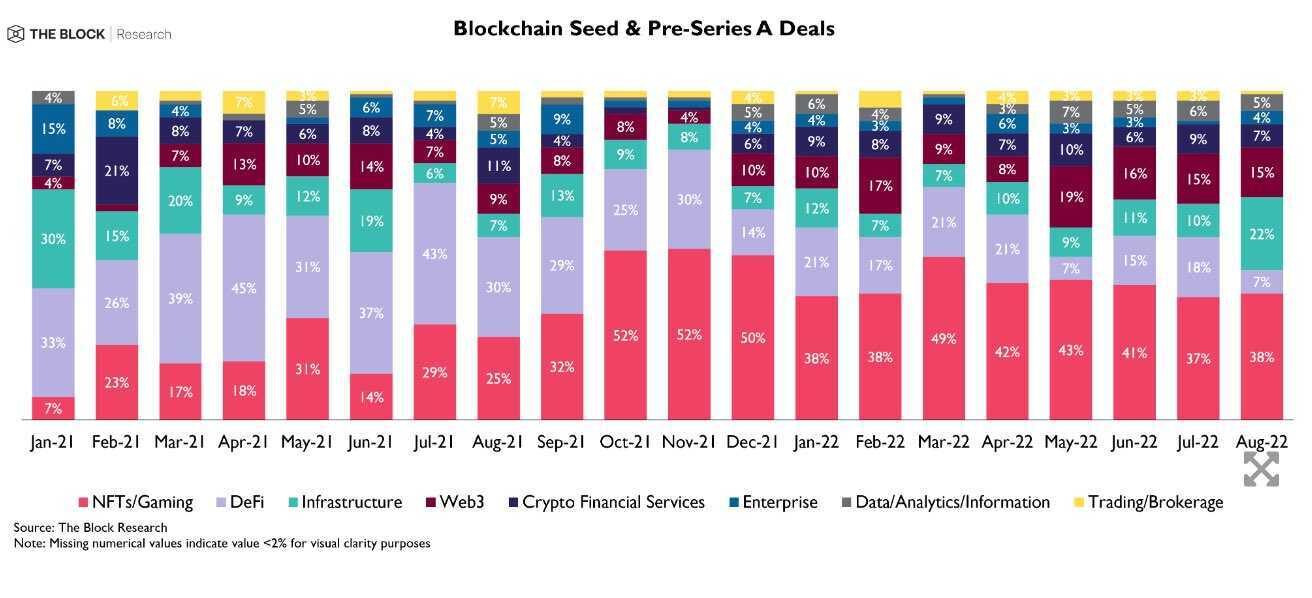 Smart money into Web3 Gaming and Metaverse keeps stable still and is more diversified by many deals into smaller segments.
In Q3 there are no big deals like Q2 but the weekly statistic shows that Web3 Gaming has not shown any signs of cooling down.
Ecosystem breakdown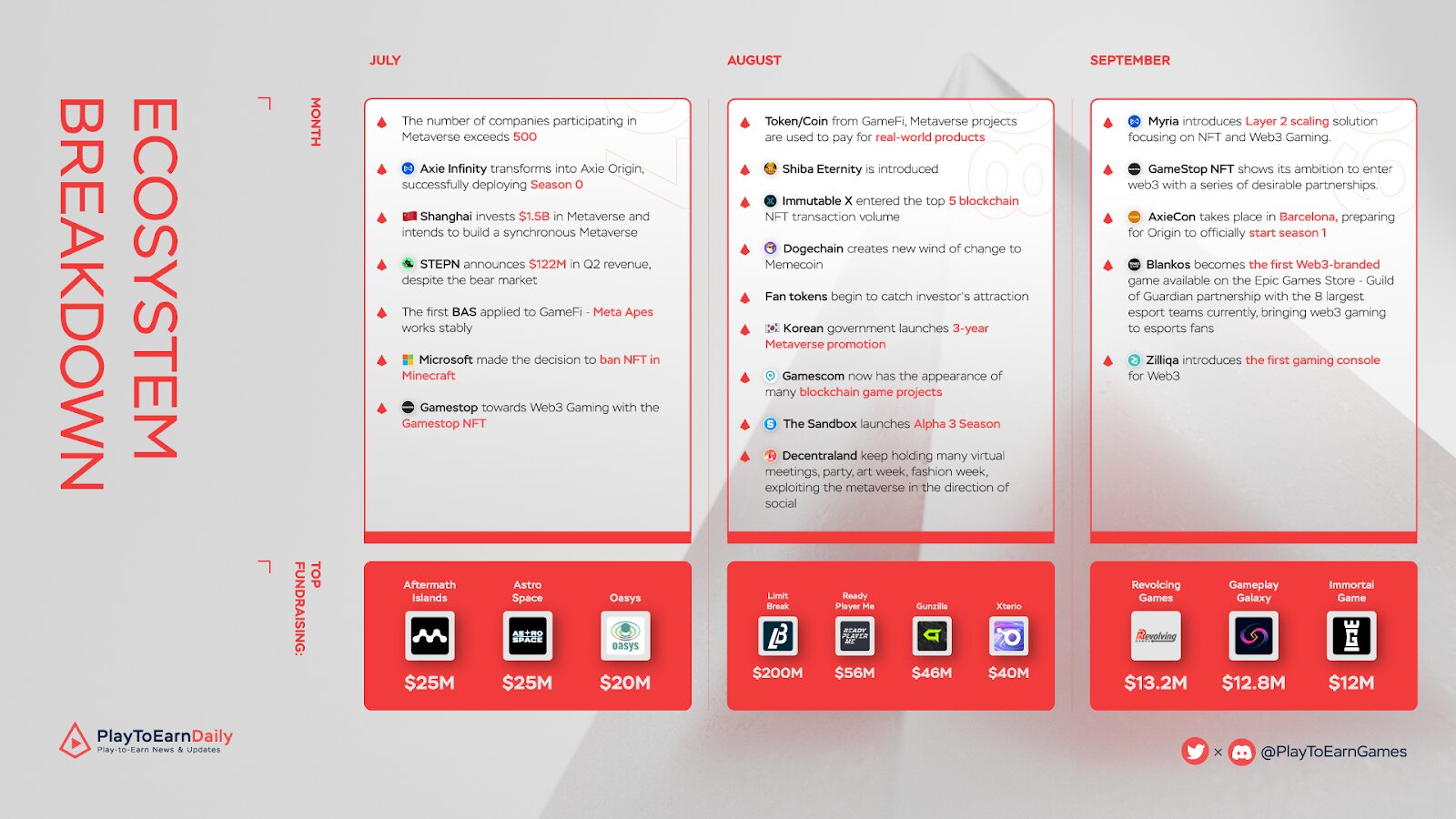 July: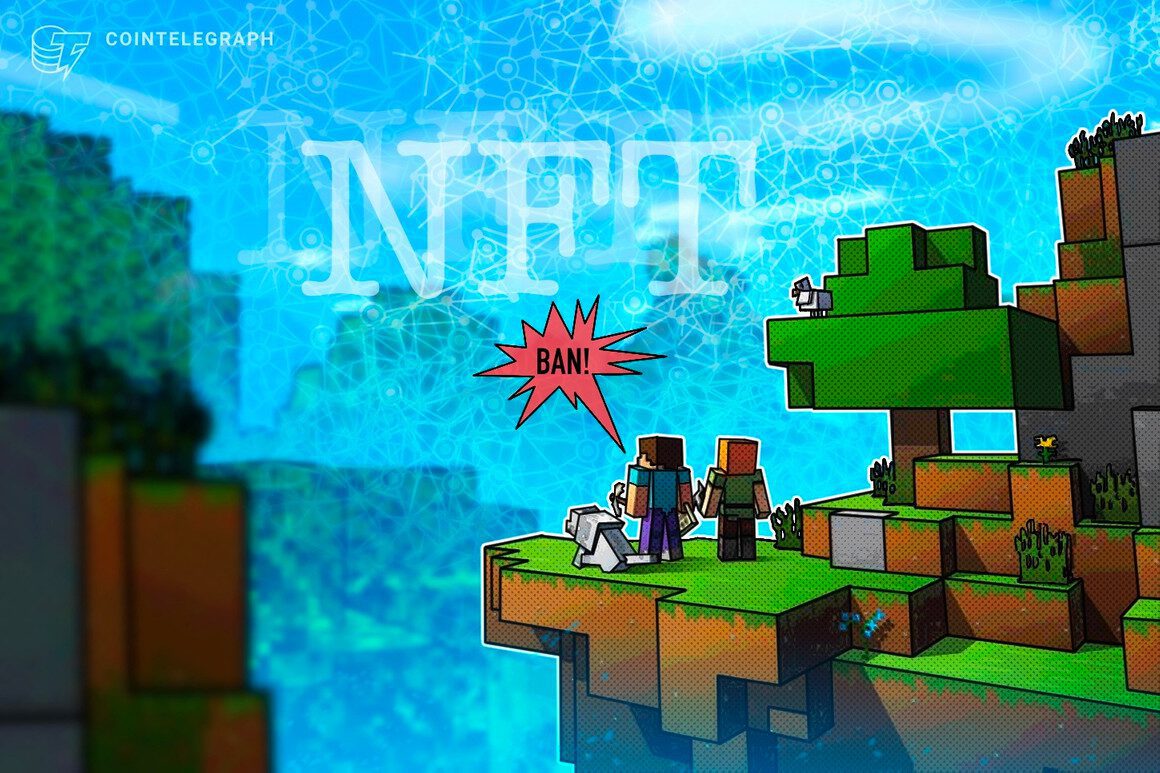 The number of companies participating in Metaverse exceeds 500 
The number of top-tier Metaverse projects increased significantly (XANA Metaverse, Monavale, Everdome, ..) 
Axie Infinity transforms into Axie Origin, successfully deploying Season 0 
Shanghai invests $1.5B in Metaverse and intends to build a synchronous Metaverse 
STEPN announces $122M in Q2 revenue, despite the bear market 
The first BAS applied to GameFi
Meta Apes works stably 
Microsoft made the decision to ban NFT in Minecraft, shaping many opinions from the giants in the gaming industry 
Gamestop towards Web3 Gaming with the Gamestop NFT, seeing the potential and putting high expectations on this new step
Top Fundraising:
Aftermath Islands: $25M (The blockchain-based virtual reality interactive platform)
Astro Space: $25M (The first farm-to-steal Web3 mobile game on Solana)
Oasys: $20M (The eco-friendly blockchain built for the gaming community)
August: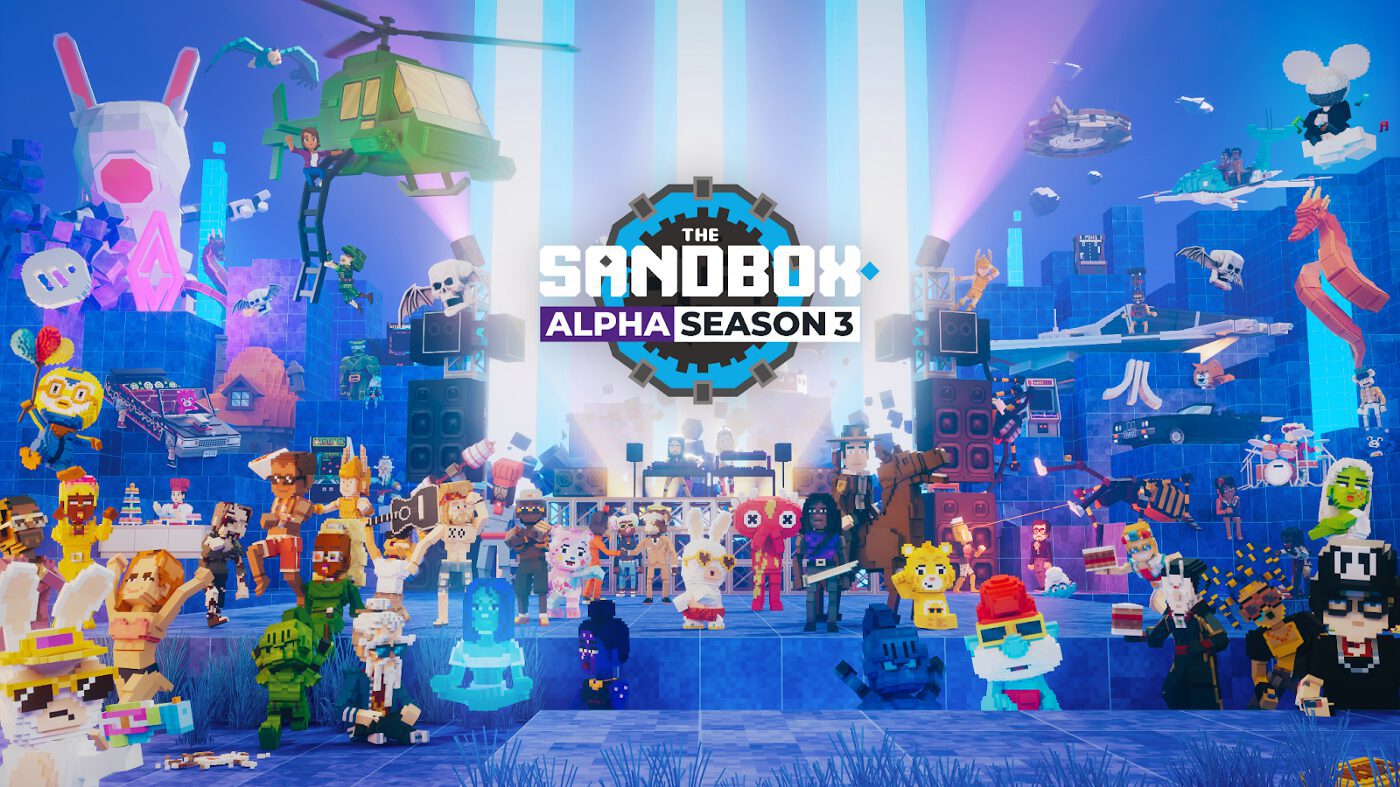 Token/Coin from GameFi, Metaverse projects are used to pay for real-world products (Gucci, TAG Heuer..) 
Shiba Eternity is introduced 
the game that kicks off the Gamefi, Metaverse ecosystem of SHIB 
Immutable X entered the top 5 blockchain NFT transaction volume with incentive-boosted NFT sale 
Dogechain creates new wind of change to Memecoin and gives extra utility to DOGE holders (SHIB Chain follows the trend) 
Fan tokens begin to catch investor's attraction, with incredible price performance and trading volume spike 
Korean government launches 3-year Metaverse promotion 
Gamescom, the world's largest game event, now has the appearance of many blockchain game projects 
The sandbox launches Alpha 3 Season and continues to focus on exploiting the metaverse in the direction of social gaming 
Decentraland keep holding many virtual meetings, party, art week, fashion week, exploiting the metaverse in the direction of social
Top Fundraising:
Limit Break: $200M (Create a new model "Free-to-Own" in Web3 Gaming)
Ready Player Me: $56M (The cross-game metaverse avatar platform)
Gunzilla: $46M (The AAA Battle Royale 2.0 third-person in Web3)
Xterio: $40M (The cross-platform publisher and developer of high-quality mobile and web3 games)
September: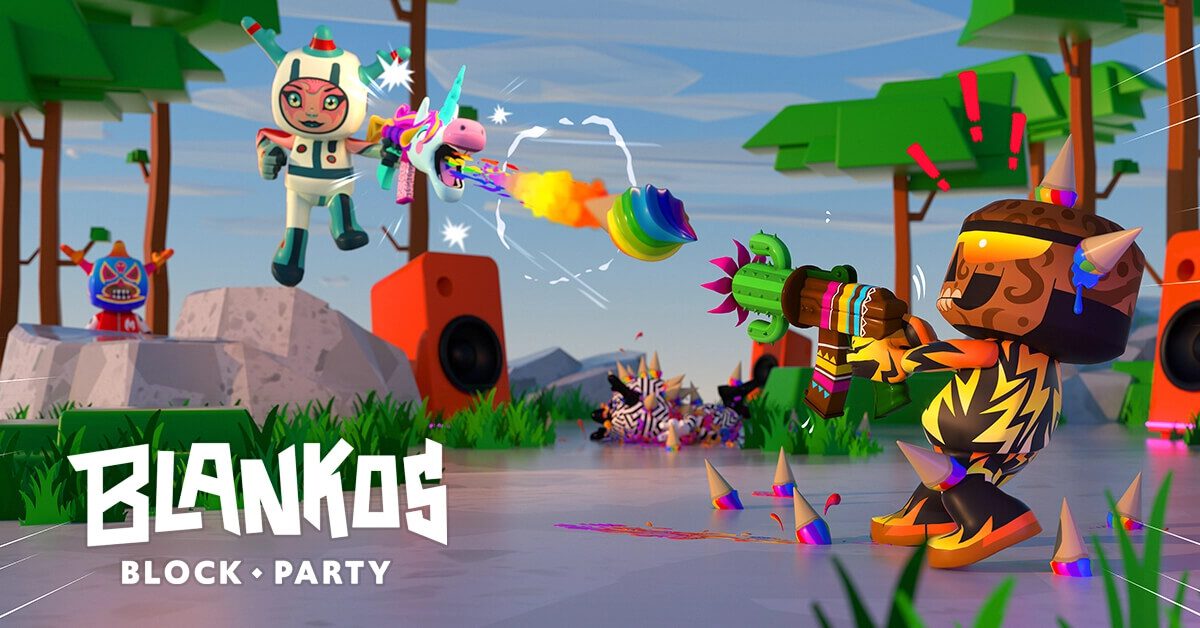 Myria introduces Layer 2 scaling solution focusing on NFT and Web3 Gaming, expecting to create a new breeze for Web3 space 
GameStop NFT shows its ambition to enter web3 with a series of desirable partnerships 
AxieCon takes place in Barcelona, preparing for Origin to officially start season 1 
Blankos becomes the first Web3-branded game available on the Epic Games Store – Guild of Guardian partnership with the 8 largest esport teams currently, bringing wbe3 gaming to esports fans 
Zilliqa introduces the first gaming console for Web3
Top Fundraising:
Revolcing Games: $13.2M (The AAA web3 games)
Gameplay Galaxy: $12.8M (The decentralized competitive gaming ecosystem)
Immortal Game: $12M (The Web3 chess platform)
Highlight projects 
⭐ Myria: The Outstanding Innovator for Web3 Gaming and NFT 
Myria is a blockchain gaming ecosystem powered by Myria's Ethereum L2 scaling solution. Coming to Web3 gaming with a new approach, Myria proves its potential to shape the next gaming revolution. Recently, the ecosystem of Myria is rapidly expanded by partners with quality blockchain games.
⭐ GameStop NFT: The Excellent Transition of Traditional Gaming to Web3 Space 
After struggling to sustain sales as a brick-and-mortar retailer, GameStop began its crypto integration in February 2022 by announcing a partnership with Immutable X. With a long-term vision, GameStop make a big move to the Web3 space, promising to create new innovations.
⭐ Xana Metaverse: The Promising Rising Star of Metaverse 
XANA is a blockchain infrastructure and robust DApps platform custom-built for the Metaverse. However, with a creative and dedicated team, XANA is beyond a typical Metaverse. Experiencing incredible price performance, land sale, and community growth, .. XANA is now a top-tier Metaverse project peer to The Sandbox and Decentraland.
⭐ Blankos Block Party: The First Web3 Games Launches in Popular Traditional Gaming Platform
Mythical Games' Web3 game Blankos Block Party is the first NFT-powered game to launch on the Epic Games Store. Blankos Block Party focuses on customizable collectible digital toy creatures called Blankos – an NFT. Epic Games CEO Tim Sweeny said their platform will be open to NFTs, Blankos is the perfect proof of that. 
Projections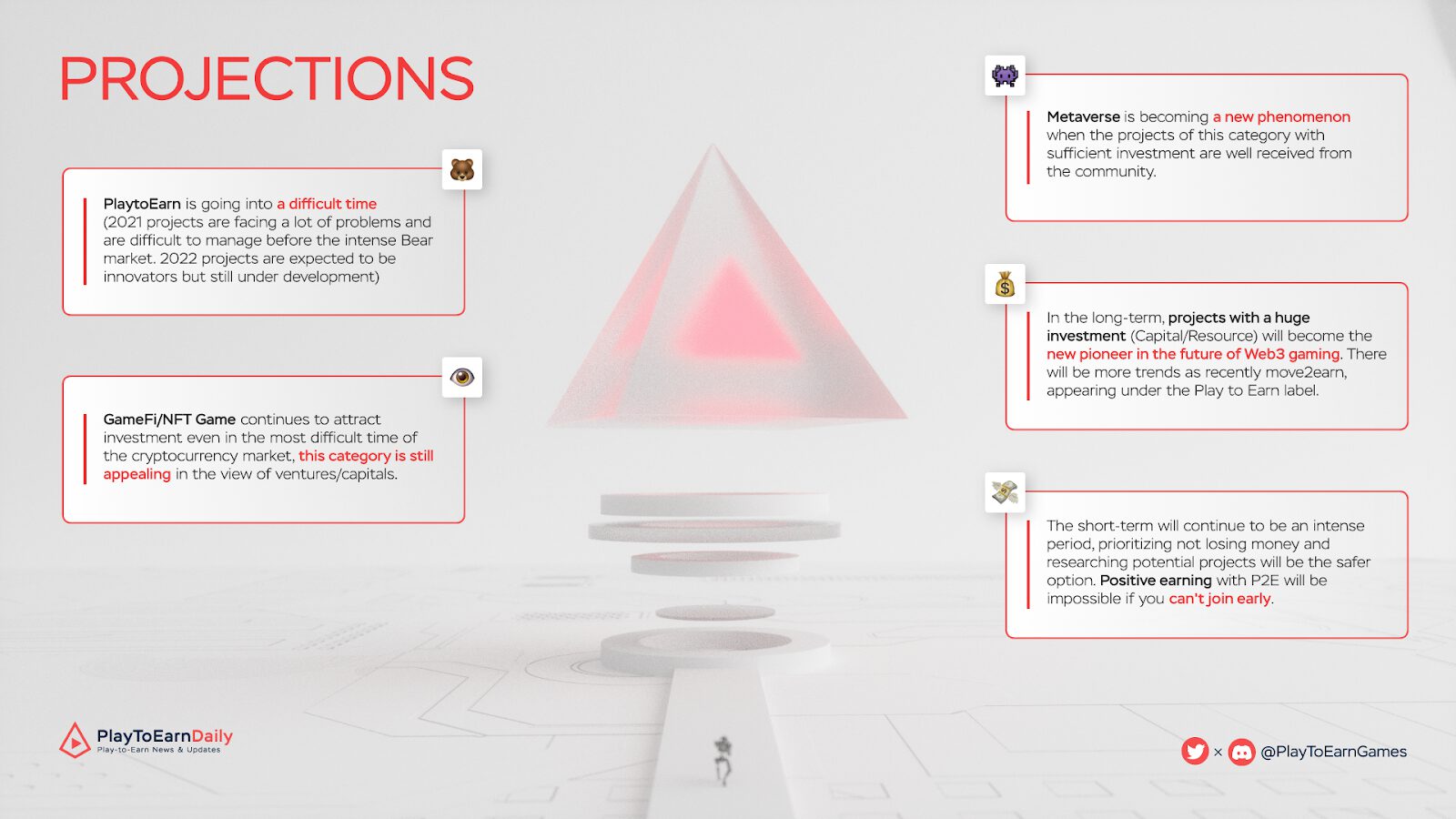 PlaytoEarn is going into a difficult time (2021 projects are facing a lot of problems and are difficult to manage before the intense Bear market. 2022 projects are expected to be innovators but still under development) 
GameFi/NFT Game continues to attract investment even in the most difficult time of the cryptocurrency market, this category is still appealing in the view of ventures/capitals. 
Metaverse is becoming a new phenomenon when the projects of this category with sufficient investment are well received from the community. 
In the long-term, projects with a huge investment (Capital/Resource) will become the new pioneer in the future of Web3 gaming. There will be more trends as recently move2earn, appearing under the Play to Earn label. 
The short-term will continue to be an intense period, prioritizing not losing money and researching potential projects will be the safer option. Positive earning with P2E will be impossible if you can't join early.
Conclusion + Disclaimer
The information provided in this report does not constitute investment advice, financial advice, trading advice, or any other sort of advice and you should not treat any of the report's content as such. 
PlaytoEarn Daily does not recommend that any cryptocurrency should be bought, sold, or held by you. Do conduct your own due diligent research and consult your financial advisor before making any investment decisions.