Ruling the headlines on the BSC network is now a norm for the Mars Ecosystem. Armed with some of the highest APRs in the DeFi space and $500M TVL, the team recently earned a Monthly Star in the Binance Smart Chain "Most Valuable Builders" program. With much anticipation, in coming mid-November the Mars Ecosystem aims to release their Stablecoin module, and USDM itself.
Stablecoin
In this write-up, we will introduce stablecoin and what Mars Ecosystem means to the future of DeFi and crypto.
Stablecoins were first introduced as a blend of stability of fiat currency and mobility of cryptocurrencies. Generally, they are backed by underlying assets or algorithms. Stablecoins ensure that money is borderless and accessible to everyone without the need for a bank or a central authority.
Simply put, if Bitcoin is decentralized gold, then stablecoins are decentralized currencies. And Mars Ecosystem is a new decentralized stablecoin paradigm. Its goal is to propose a stablecoin system that can solve the positive externality problem and the integration problem, and has the characteristics of high price stability, high degree of decentralization, and high scalability.
Genesis Introduction
Launching and Integrating USDM will be a huge Milestone for the Mars Ecosystem, and the team has done everything possible to ensure that it will be completed in a Safe, Risk-Free Manner, USDM aims to become a top contender in the Stablecoin market.
The stablecoin USDM of Mars Ecosystem will be launched, and "Genesis" will be held. XMS holders will be the FIRST ones to get the USDM.
The stablecoin module of Mars Ecosystem will be launched on BSC soon, and a "Genesis" will be held at the same time.
Genesis Event is the initial mechanism that allows users to mint USDM within the ecosystem.
Duration: The duration of each Genesis Event is several hours.
‍USDM Mintage Cap: There is a cap on the maximum amount of USDM that can be minted in each Genesis Event. In the case of oversubscription, all participating users will share the USDM mintage quota based on their subscription amount.
‍USDM mintage cost: 1 USD and Whitelisted assets for minting USDM: BUSD.
‍XMS requirement for participation is as follow: To commit a certain amount of BUSD to participate in the minting of USDM, a user must stake a certain amount of XMS proportionately. The staked XMS can be claimed a period of time after the Genesis Event ends.
‍
Example: A Genesis Event has the following parameters: the duration is 3 hours, the USDM Mintage Cap is 3 million, the XMS requirement for participation is that committing 1 BUSD to mint USDM requires staking 1 XMS, and the XMS claiming time is X days after the Genesis Event ends.
Last not not least, after the first Genesis Event ends, USDM Staking Pool will be launched. Users can Stake USDM Earn XMS and enjoy XXXX+% APR. Also, USDM can be exchanged USDM for other tokens on Mars.
Benefits to Hold USDM
"Committed BUSD will support the early stability of USDM by being sent to the incentivized BUSD/USDM MarsSwap pair as liquidity."
After the first Genesis Event ends. Users will be able to stake USDM to earn XMS with a high APR. The XMS rewards earned will be released linearly within 180 days. Amount of rewards: In Genesis, the number of XMS rewards will be significantly higher than after the end of Genesis. After the end of Genesis, the amount of XMS rewards will gradually decrease. Users can also exchange USDM for other tokens on Marsswap.
Future of Mars Ecosystem
As a potential solution to the positive externality and integration concerns Mars Ecosystem presents a three-part system. Their efforts are concentrated on producing a stablecoin ecosystem with high price stability, high decentralization, and scalability potential.
These efforts have been recognized by the Most Valuable Builder (MVB), an initiative by Binance Smart Chain to support innovative projects. The Mars Ecosystem was one of the winners of the MVBIII – September Monthly Stars. Also, the Mars Ecosystem will receive key support from BSC, not limited to financial influx. The mentoring and technical assistance provided can be a gamechanger for the Mars Ecosystem.
Therefore, BSC X Mars Ecosystem Staking $XMS Campaign will be started.The first 100 NEW USERS to stake > $1000 #XMS in Pools and hold it more than 2 weeks can win $200 worth of XMS.
The event duration is Nov. 8-15th. You can check more details here.
Also, Community-first is how the Mars Ecosystem team is approaching the future. So Mars Ecosystem puts community benefits first.
After raising CAKE rewards again on Nov.5 Mars Ecosystem daily rewards to users are15,500 CAKE + 260 #BNB + 0.25 #BTC + 3.5 #ETH =$500,000 USD per day. Total rewards distributed stands at $13.4Million already.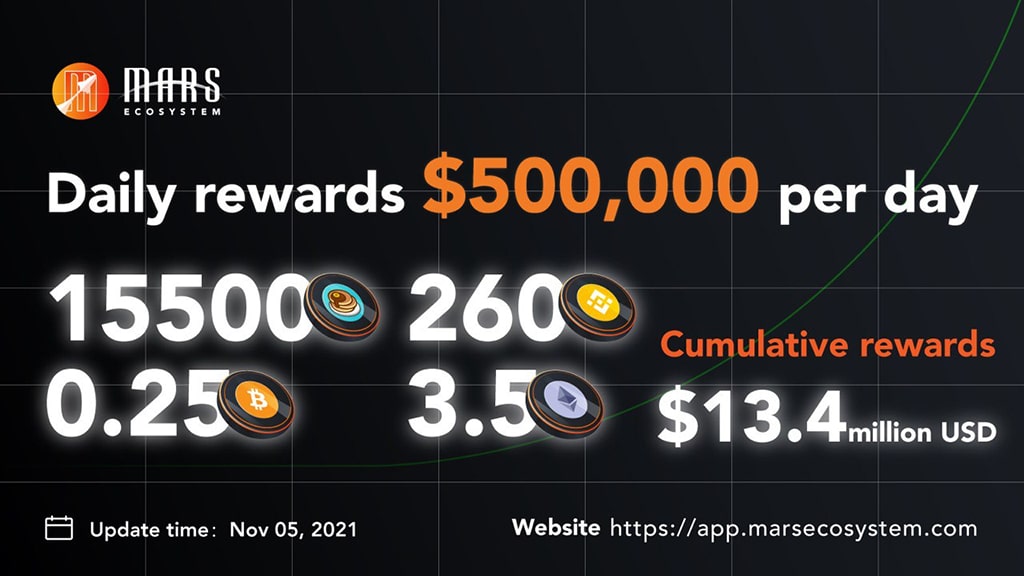 Particular emphasis will be placed on the direction their community wants to take, in unison with their roadmap that includes launching more DeFi protocols and incubating nascent projects.
Mars ecosystem will stimulate the growth and adoption of USDM and drive integration with others in the market, giving USDM more scope that will directly benefit the Mars ecosystem, its users, and the DeFi space as a whole.
Mars Ecosystem socials: Telegram, Twitter.
Subscribe to our telegram channel. Join