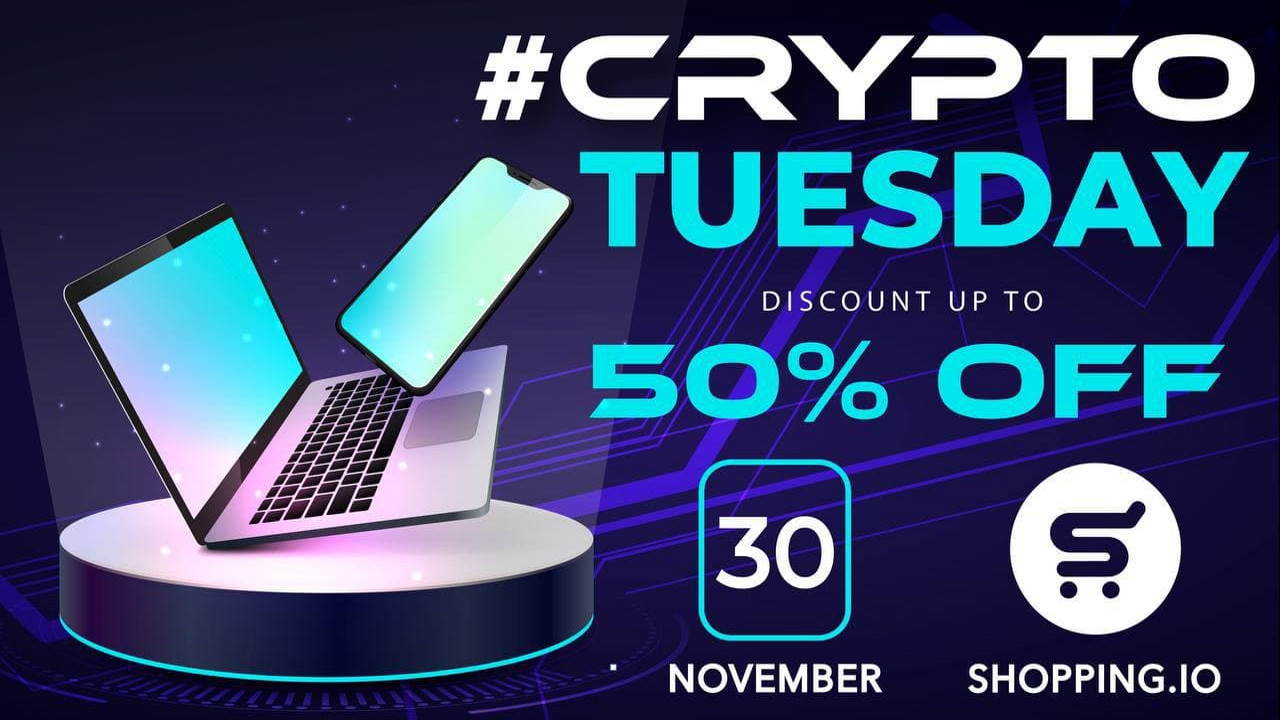 press release
PRESS RELEASE. Shopping.io, an innovative crypto e-commerce platform, announces its first ever Crypto Tuesday event, taking place on Tuesday, November 30, 2021.
Crypto Tuesday is the first-of-its kind discount event that happens online through the Shopping.io platform right after Black Friday and Cyber Monday.
Shopping.io is an innovative way for consumers to shop for anything they want from Amazon, eBay, Walmart and Etsy using over 200+ Cryptocurrencies with international shipping.
For this Crypto Tuesday event, everything purchased through the Shopping.io platform will have up to a 50% discount.
How Does it Work?
To participate in the event, users will need to make an account on the platform (Also a free account is available). For the Crypto Tuesday event, users will be able to spin the Fortune Wheel at check out and win 5% to 50% off their shopping cart.
Users can shop for anything they want from Amazon, eBay, Walmart, Home Depot, and Etsy using the platform, and pay using Bitcoin, Ethereum, DogeCoin, and any other crypto held in their digital wallet.
The Crypto Tuesday discount will then be applied to the total order.
In addition to the Crypto Tuesday savings, users who hold $SPI or $GSPI (Shopping.io native tokens) on the Dynamic or VIP package will get an additional discount.
This means total savings can be as much as 60% off.
About Shopping.io
Shopping.io was launched in December 2020, founded by dropshipping veterans with a vision to change how we make purchases with crypto.
This unique shopping platform allows consumers to make purchases online from thousands of different products using their favorite cryptocurrencies while simultaneously receiving rewards on the platform, along with a variety of token-specific discounts.
Future API integrations to allow previously unsupported tokens to be able to participate in crypto E-commerce by allowing them to make purchases online with their cryptocurrencies.
$SPI and $GSPI are Shopping.io's native tokens that allow you to unlock plan discounts and benefits up to 10% discounts on Shopping.io, including free international shipping.
The mission of Shopping.io is to innovate and revolutionize how the world does business with crypto.
Contacts
For more information on this event or Shopping.io, please feel free to contact us on our live chat directly on our website or through [email protected]
https://twitter.com/shopping_io
https://discord.com/invite/4dG2bM2
https://www.youtube.com/c/Shoppingio/featured
https://m.facebook.com/shopping.io
https://www.instagram.com/shopping.io_official/
---
This is a press release. Readers should do their own due diligence before taking any actions related to the promoted company or any of its affiliates or services. Bitcoin.com is not responsible, directly or indirectly, for any damage or loss caused or alleged to be caused by or in connection with the use of or reliance on any content, goods or services mentioned in the press release.
Image Credits: Shutterstock, Pixabay, Wiki Commons