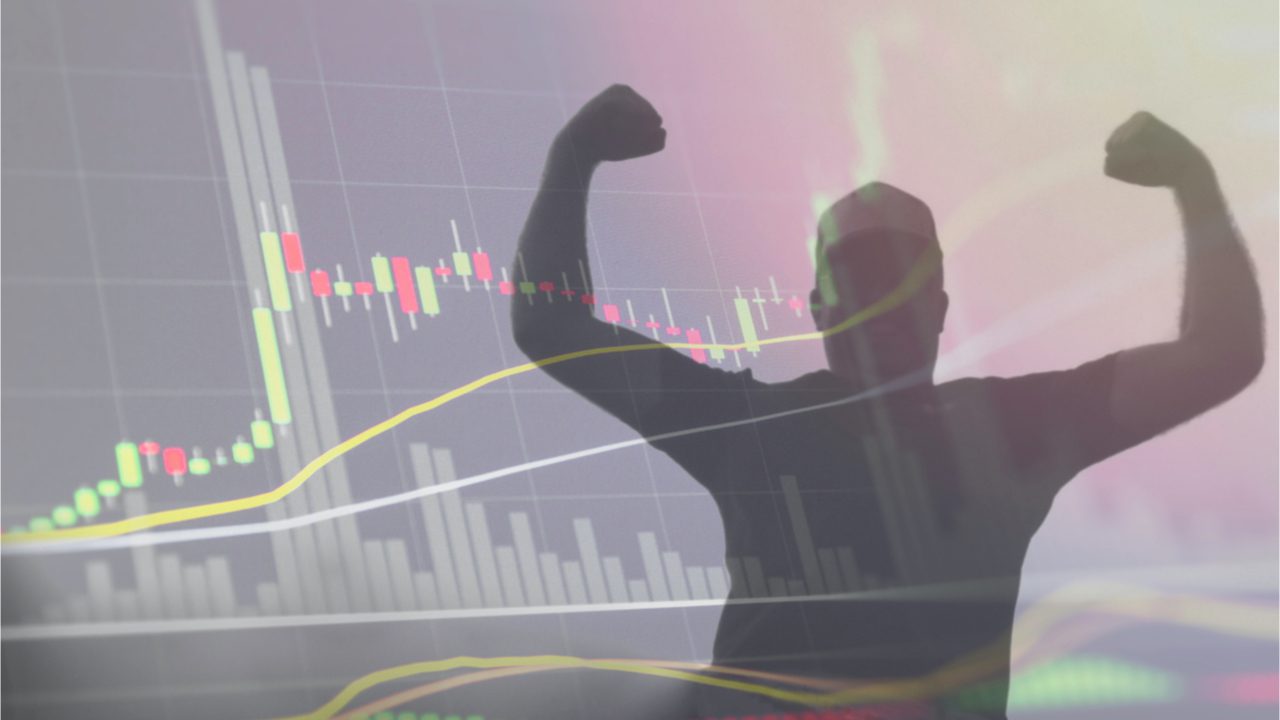 The crypto asset bitcoin has seen a phenomenal year gaining 261.5% over the last 12 months and the second leading crypto asset, ethereum, rose by 819.9% since mid-November 2020. However, a slew of digital currencies saw much larger gains during the last 12 months and a dozen crypto assets have gained anywhere between 7,000% to a whopping 27,000% in value.
12 Crypto Assets That Spiked 7,000% to Over 27,000% in Value Since Mid-November 2020
On Wednesday, November 17, 2021, the crypto economy with its 10,870 coins and 523 exchanges, is worth over $2.7 trillion. Meanwhile, during the last year, bitcoin (BTC) spiked more than 261% and its $1.1 trillion market valuation represents 41.3% of the crypto economy.
Ethereum (ETH), on the other hand, is the second-largest market capitalization with just over $500 billion in value or 18.2% of the $2.7 trillion. ETH has risen 819% during the last 12 months, but 12 different crypto assets outpaced both BTC and ETH's 12-month gains combined.
The biggest gainer this year is Axie Infinity (AXS) which has spiked 27,232% since November 16, 2020. AXS is one of the native tokens tethered to the blockchain video game called Axie Infinity and was crafted by a team called Sky Mavis.
The digital collectibles platform ecomi.com's ecomi (OMI) token has climbed 16,545.52% in 12 months. The third-largest gainer during the last year is the token called conscious value network (CVNT) which has spiked 16,326.89% since mid-November 2020.
The fourth biggest gainer this past year is terra (LUNA) as the digital asset has jumped 13,701 over the last year. The fifth-largest token rise belongs to fantom (FTM) as the crypto asset spiked 11,178% since mid-November 2020.
FTM is followed by kadena (KDA) +10,801%, solana (SOL) +9,855%, hydro (HYDRO) +9,708%, sandbox (SAND) +9,007%, polygon (MATIC) +8,793%, dogecoin (DOGE) +8,053%, and rubic (RBC) +7,325%.
The top ten crypto coins that lost over 90% in values since mid-November 2020, include tokens like cherry (CHERRY) -99.64%, hyperion (HYN) -99.08%, genesis vision (GVT) -98.70%, empty set dollar (ESD) -97.94%, exchange union (XUC) -91.87%, blockmason (BCPT) -91.80%, and lien (LIEN) -90.99%.
What do you think about the top 12 gainers during the last year? Let us know what you think about this subject in the comments section below.
Image Credits: Shutterstock, Pixabay, Wiki Commons, tradingview,