Source : zycrypto.com
Advertisement
&nbsp
&nbsp
NFT searches on Google have grown by 1000% in the last year and are still trending upwards, providing evidence that many more people are interested in these assets. Further analysis reveals that people have been preferring to invest in NFTs than crypto in the last few months.
Although Crypto searches were higher than those of NFTs for the better part of last year, they began a downward trend since November last year. Now Google Trend reveals that many more people are searching for NFTs than cryptos.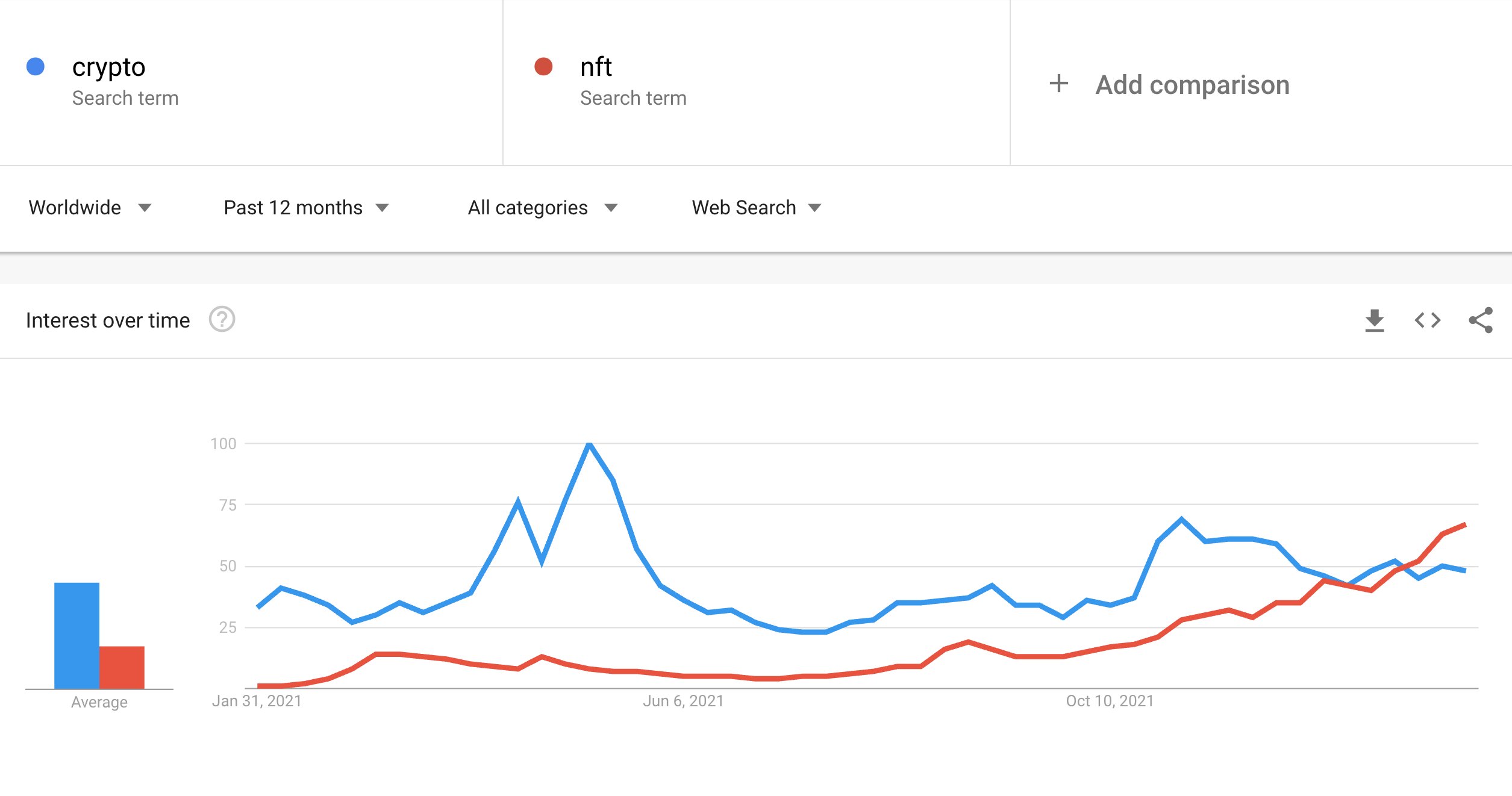 Region-wise, non-fungible token searches are highest in Singapore, Hong Kong, China, Venezuela, and Canada according to Google Trend. The NFT mania, therefore, continued to sweep across Asia than in Europe or America. In comparison, cryptocurrency searches were highest in Singapore, Slovenia, Netherlands, Cyprus, and Nigeria.
Although NFT searches are lower than Bitcoin searches, a look at the trend reveals many more people have been searching for NFTs than Ethereum term on Google. The same is true for all other top ten cryptocurrencies by market capitalization, namely Tether, BNB, Cardano, XRP, Solana, Terra, and Dogecoin. Monthly worldwide searches for Bitcoin have remained relatively the same since July last year when NFT searches began a sustained upward trend. Not even searches for blockchain or any crypto-related terms come close.
NFT was also a dominant search term across all the major social sites including Twitter, Instagram, and Facebook in the last few months. The cumulative monthly social media reach is up from a mere 2.6 million in December last year to the current 35 million. This is according to data generated with the Brand24 social media analytics tool. The greatest traction was realized since December last year.
Advertisement
&nbsp
&nbsp
For cryptocurrency, the total social media reach and number of mentions are 25 million and 51,000 respectively as measured by the tool. But the number of mentions and social media reach for crypto as a term have also grown exponentially since December last year. Social media reach was 1.3 million and the number of mentions was just 10,000 as of December 2021.
Therefore, while the number of mentions for the two terms has grown by a fairly equal measure on social media, NFT social media reach grew at a faster rate in the past month.
The growth of NFT social media reach and Google searches also coincide with the growth in NFT sale volumes. The monthly sale volume is now up from $1.2 billion a month ago to the current $3 billion. During the same period, crypto market capitalization has been on a downward trend, falling from $2.2 trillion to the current $1.6 trillion. It appears as though people invested in crypto have also been transferring some wealth from crypto to NFTs given the popularity of these assets.