Polygon is one of the most popular blockchain networks in the crypto space, which means there are multiple wallets promising to give you the best where this network is concerned. Most of these wallets have impressive portfolios, so it is challenging to determine which one will best suit your needs. In this article, we ease that challenge by giving you nine of the best Polygon Wallets classified as hard and soft wallets, so you can easily make your pick.
MetaMask: Best overall Polygon wallet
Coinbase Wallet: Best: secure crypto wallet for Polygon
Bitski: Best for mainstream adoption
Venly: Best for blockchain gamers
WalletConnet: Best Web3-focused crypto wallet
Ledger Nano X: Best overall hardware crypto wallet
Trezor: Best for people holding multiple cryptocurrencies
SafePal: Best mobile-compatible hardware wallet
D'CENT Biometric Wallet: Best biometric hardware crypto wallet
Which Are the Best Polygon Soft Wallets?
A soft or hot wallet is a digital crypto wallet. Soft wallets store private keys, the code combinations that help verify your transactions, somewhere on your device or in a cloud. Although the idea of storing your crypto in a device or cloud opens room for cyber attacks and theft, hot wallets are highly secured, and the funds you hold in them are insured. Here are some of the best soft Polygon web wallets you can use.
MetaMask
Best: Overall Polygon web wallet
MetaMask is the best overall Polygon web wallet to use on the Polygon Network. This wallet came to life in 2016 when Dan Finlay and Aaron Davis decided to back the layer 1 Ethereum blockchain with a web extension that was developer friendly. Six years and impressive modifications later, MetaMask offers more than 30 million users globally a chance to trade tokens, play crypto games, develop, and use Dapps.
MetaMask comes in a browser extension form that one can use to access the Polygon Wallet V2. MetaMask displays impressive cross-browser compatibility, allowing users to use it on multiple devices. It also supports various ways to manage digital assets on Polygon and earn from them. Features like Matic staking, trading and token storage, and the wallet's untainted security reputation attract crypto inventors, traders, and developers to the wallet.
As an Ethereum-based wallet, MetaMask might have higher gas fees than other wallets, but it constantly works towards reducing them as much as possible. Still, the gas fee ranges between 0.4% and 0.9% of the transaction you make. The withdrawal fees on the platform also attract similar charges, but you will not have to pay any charges for depositing MATIC into your MetaMask wallet.
Key Features
Impressive cross-browser compatibility
Multiple digital asset management features like trading, sending, storing, and staking
Access to numerous blockchain apps
High-quality security systems and measures
Coinbase Wallet
Best: Secure Crypto Wallet For Polygon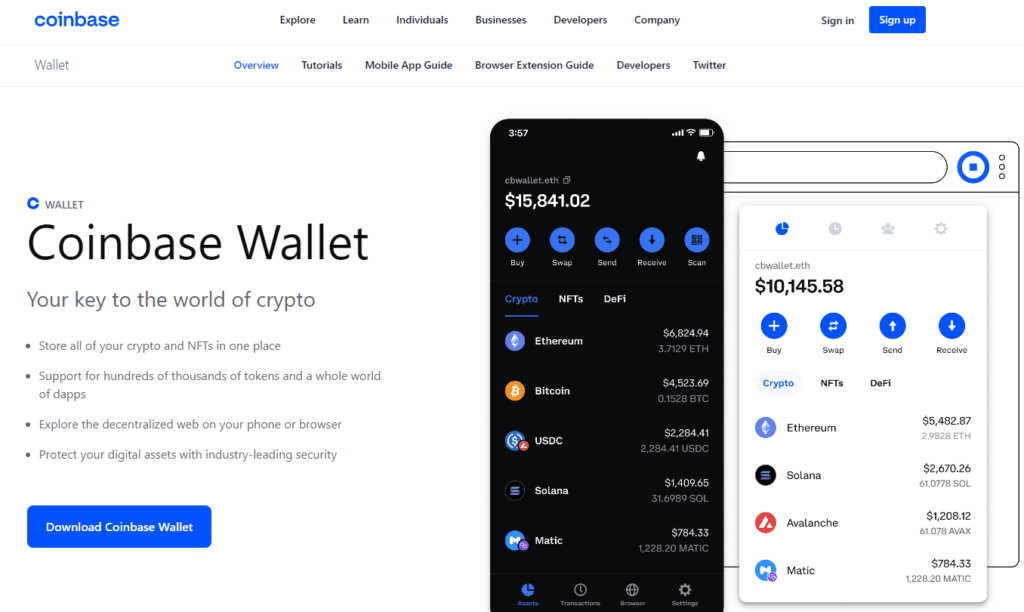 Because of crypto's digital nature, the space is prone to many cyber-attacks and data breaches, which explains why Coinbase Wallet goes all out to ensure it is the safest crypto wallet in the market.
For a hot wallet, Coinbase Wallet boasts some stately high-performance security features that guarantee users of their investment's safety. The first security feature is the secure enclave technology that stores a user's private keys. Private keys are critical in proving ownership of a blockchain address and signing transactions from it. Coinbase wallet also has a two-factor authentication feature, cold storage wallets for 98% of the assets secured on the platform, and a Coinbase vault for extra security on your transactions.
Besides security, this wallet is also efficient for storing crypto assets and accessing dApps. Coinbase charges a withdrawal fee of at least 1% per transaction and other standard network fees.
Key Features
Secure enclave technology for enhanced security
Supports multiple cryptocurrencies and decentralized applications
Gives complete control of your digital assets
Bitski
Best: For mainstream adoption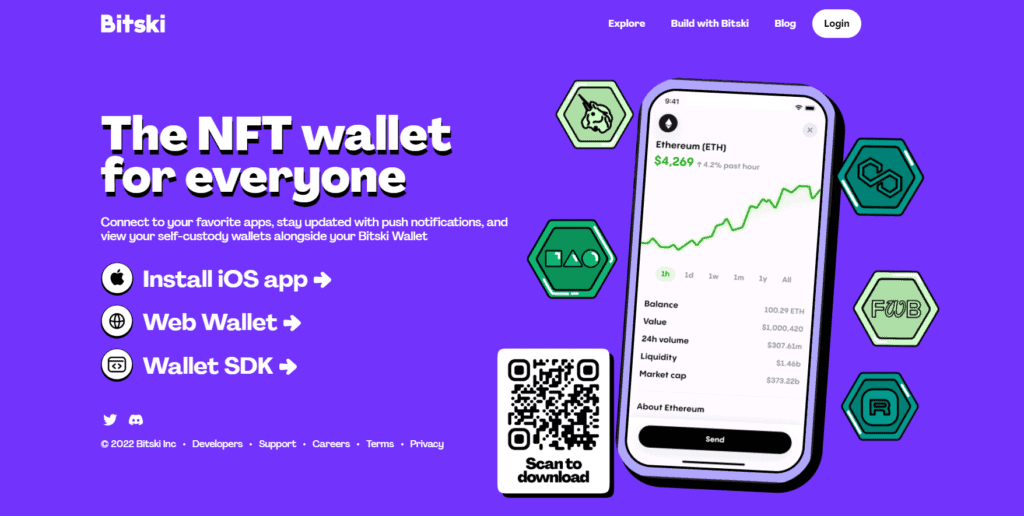 If there exists a crypto wallet designed for everyone, Bitski is it. Bitski is the first ever crypto wallet to focus on mainstream adoption, making it incredibly easy for anyone to own and operate it.
To begin with, all you need to access Bitski is an email address and a password. No complex recovery phrases, no lengthy verification procedures, and what's even better is that the security standards are still kept astonishingly high.
Using industry-grade and tamper-proof hardware security models, Bitski stores your private keys as securely as possible. This wallet also uses OAuth2 and OpenID Connect protocols for authentication making your transactions highly secure. The other outstanding feature that Bitski has is that it enables you to use one account across multiple dApps as long as they support Bitski wallets.
As for the cost, Bitski offers free and priced tiers depending on your transaction volume. You may also encounter a monthly fee, but it should be affordable because the wallet's mission is to make it easier for anyone to own a crypto wallet.
Key Features
An easy set-up process and simplified wallet-user interaction
Industry-standard hardware security models
Multi-app compatibility
Cloud management makes the wallet accessible on any device at any time
Venly
Best: For blockchain Gamers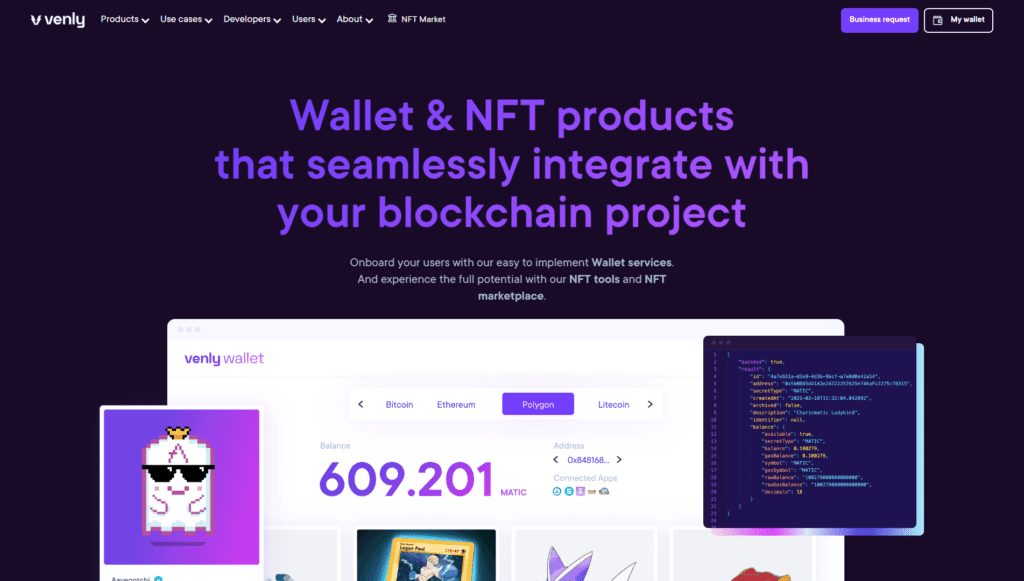 Venly, the work of the former Arkane Network, is the best wallet for blockchain gamers. This wallet's ecosystem has at least 100 thousand active registered gamers and not less than 5 million in locked assets. Besides gamers, Venly offers a secure way for game creators and gaming studios to secure their crypto assets.
The first cool feature that Venly has, which attracts many gamers to its services, is the powerful minting and API tools available. Not only can game developers store their digital assets on Venly wallet, but they can also incorporate the wallet into their games using simple widgets and wallet APIs.
Venly is a convenient solution for gamers mainly because it is blockchain agnostic. This means you can play games from any blockchain and use your Venly wallet across all of them because it is compatible. Among the major blockchains compatible with Venly are Polygon, Avalanche, Binance, and Hedera.
When transacting on Venly, you will pay a transaction fee of at least 2%, which can rise to 4%. These charges may seem relatively high, but for the service and convenience the wallet provides, they are worth it. Venly is accessible for mobile users and has a browser version accessible through multiple browsers.
Key Features
Supports wallet development in blockchain gaming
Blockchain agnostic
Supports token swapping
WalletConnet
Best: Web3-focused crypto wallet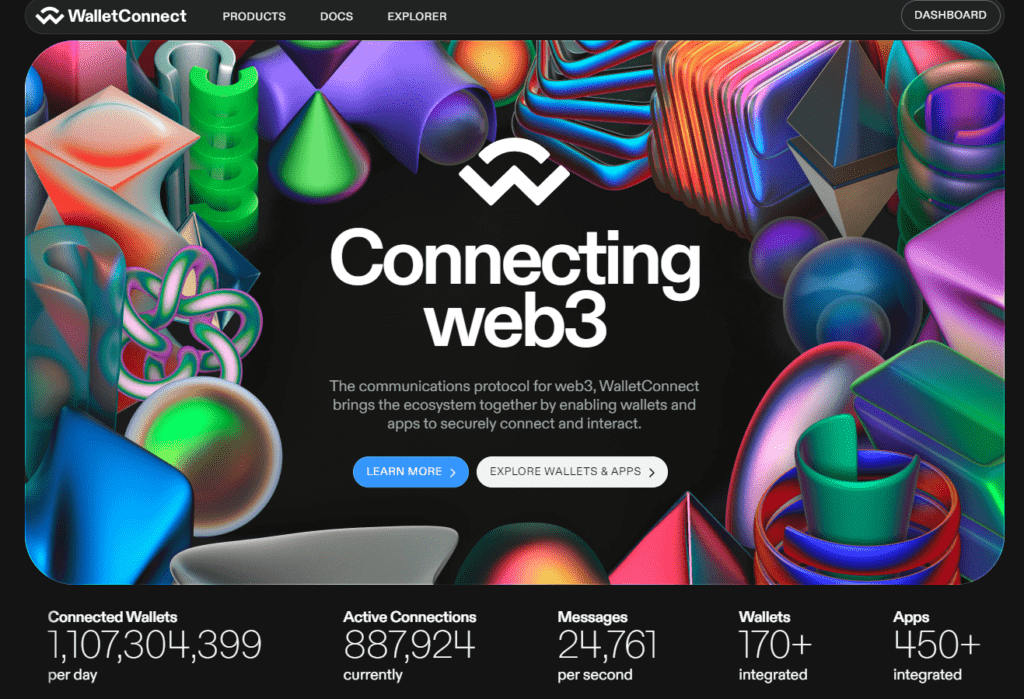 Digital currencies and blockchain systems are quickly becoming part of everyday life, so it is essential to have a crypto wallet like WalletConnect, which prioritizes Web3 growth. WalletConnect is not just your ordinary crypto wallet. Besides functioning as storage for crypto coins, it is also a Web3 infrastructure connector, creating seamless communication between decentralized applications.
WalletConnect offers a sign-off feature that allows you to verify every transaction on your wallet with a simple click. It also will enable you to transact across multiple blockchains simultaneously, without having to sign out of one and into another. WalletConnect's Web3 abilities equally make it possible for inter-wallet communication. This means you can chat with other DAO members and friends across any blockchain, exclusively through the wallet, as long as you have a wallet address, an ENS domain, or a QR code.
To access WalletConnect, all you need is to visit the WalletConnect browser application and sign in. The wallet doesn't come with any version, but the browser version is widely accessible. When it comes to the cost of using WalletConnect, there are no fees charged by the wallet, but you need to pay the ETH gas fees to power up your transactions.
Key Features
Scales up Web3 infrastructure by enabling communication between the digital assets it stores, and various dApps
Compatible with multiple blockchains and dApps
A wallet-to-wallet messaging feature
Which Are the Best Polygon Hard Wallets?
Hard wallets, also known as cold wallets, are crypto wallets that store your private keys offline. Cold wallets have grown popular because they significantly reduce the risk of data breaches associated with cryptocurrencies. Let's explore the best hard wallets you can use on Polygon.
Ledger Nano X
Best: Overall hardware crypto wallet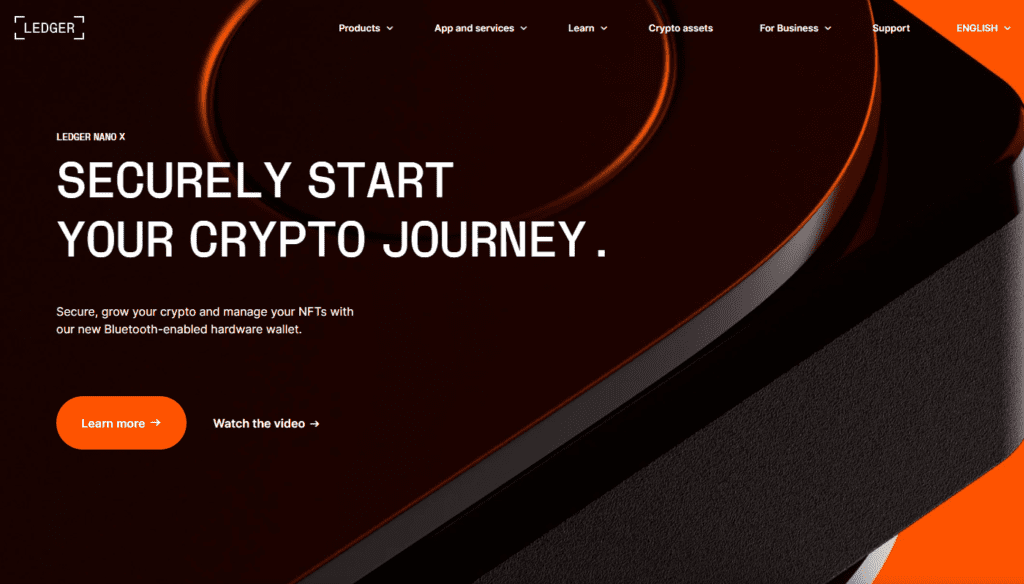 The Ledger Nano X is one of the most widely used cold storage options for crypto assets. It is popular, especially among investors with huge sums of crypto who prefer not to store tokens in digital wallets for safety reasons.
A Ledger Nano X wallet is a gadget designed to store your crypto assets. Think of it as an external hard drive specifically for storing crypto. The Ledger wallet works by storing our private keys. Private keys are the one way to unlock and validate your digital assets' transactions, so as long as these keys are safe, so are your assets.
Ledger Nano X has a Ledger Live mobile app, which you can use to check your wallet's balance and make transactions. The app is accessible on desktop, iOS, and Android devices.
Key Features
A Ledger live app for monitoring balances and executing transactions
Uses Secure Element (SE) chips certified using the EAL5+ process
The chips on the wallet have two protection layers, T31H320 and STM32F042 (OS), that register crypto transactions on a different part of the hardware to reduce penetration attacks
Trezor
Best: For people holding multiple cryptocurrencies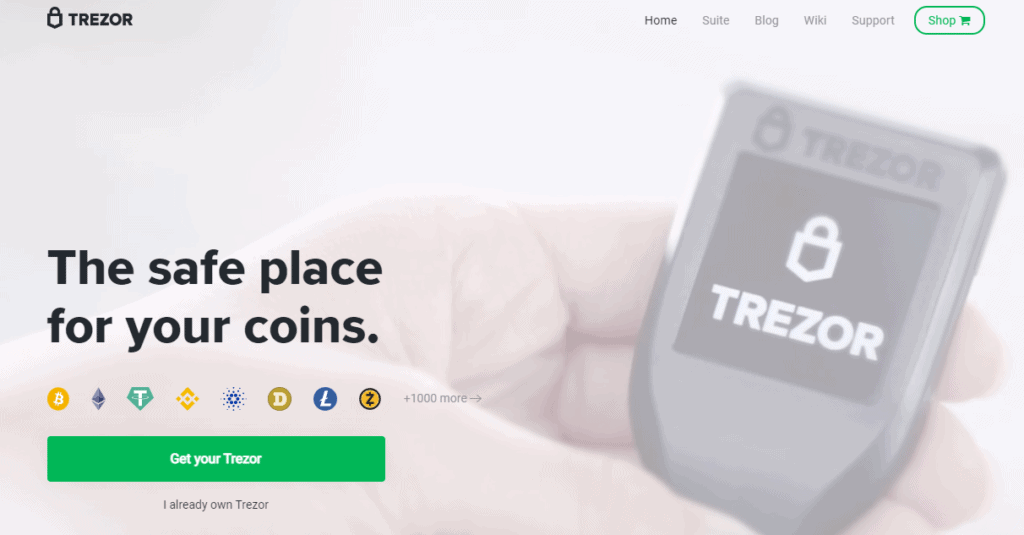 Trezor is a hardware wallet created by SatoshiLabs. The wallet stores ERC-20 tokens and about 2,000 other crypto assets. This makes it a convenient choice for crypto investors who hold multiple crypto assets. Like other crypto wallets, Trezor stores your private keys offline to secure your cryptocurrencies. In case you lose your Trezor wallet, the company gives you a 12 to 24-key phrase that you can use to recover your account and assets on a new Trezor gadget.
To operate this wallet, you connect it to your PC using a USB cable. You can then go to the wallets' online version, accessible through a browser on any Windows, Linux, or Mac computer. The Trezor wallet also comes in two models, Model One and Model T. Both models are secure, and the difference between them is how they create and back-up deterministic keys.
Key Features
Holds multiple cryptocurrencies, making it suitable for multi-crypto holders
Easy wallet recovery using a seed phrase
Advance security using EAL5+ standard chips
A browser app version that helps to customize the wallet
SafePal
Best: Mobile-compatible hardware wallet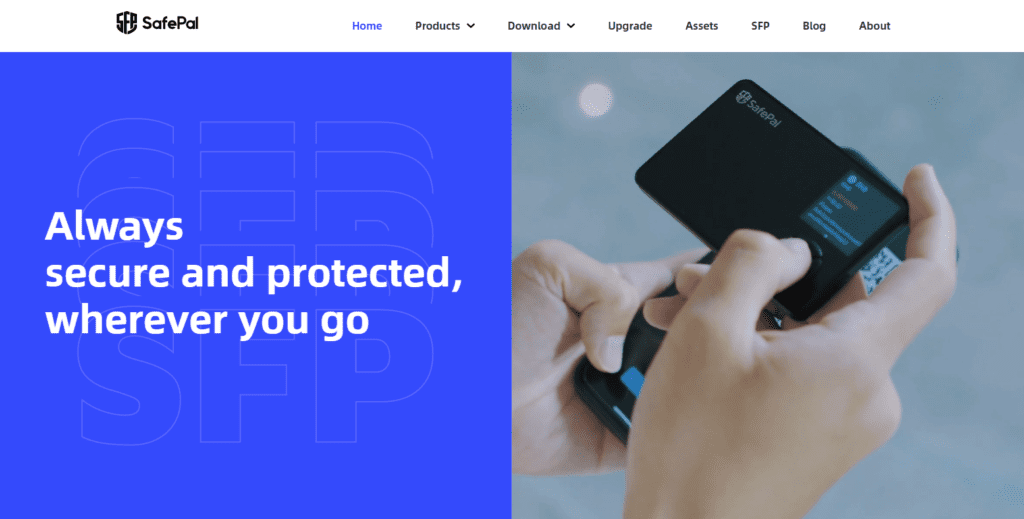 SafePal may not be a popular hardware wallet because it supports only about 10,000 tokens. Still, it is the best hardware wallet for crypto investors who run most of their trades on smartphones.
The catch with SafePal is that, besides using the EAL 5+ certificate security standard, it incorporates a new security feature, the air-gripped security connection mechanism. This means it only uses QR codes to sign in to the device to computers, thereby eliminating the risks that come with Bluetooth and USB connections. This technology also makes it easy to access the wallet using your phone.
SafePal also comes with a self-destruct mechanism that destroys all stored private keys when it detects a forceful breach. Despite this destruction, you can still retrieve your keys using the recovery phrase that comes with your wallet.
Key Features
Easy access and use on smartphones.
An air-gripped security mechanism that eliminates the need for Bluetooth, USB, and Wi-Fi connections.
An anti-tamper mechanism that protects private keys in the phase of a forceful breach.
D'CENT Biometric Wallet
Best: Biometric hardware crypto wallet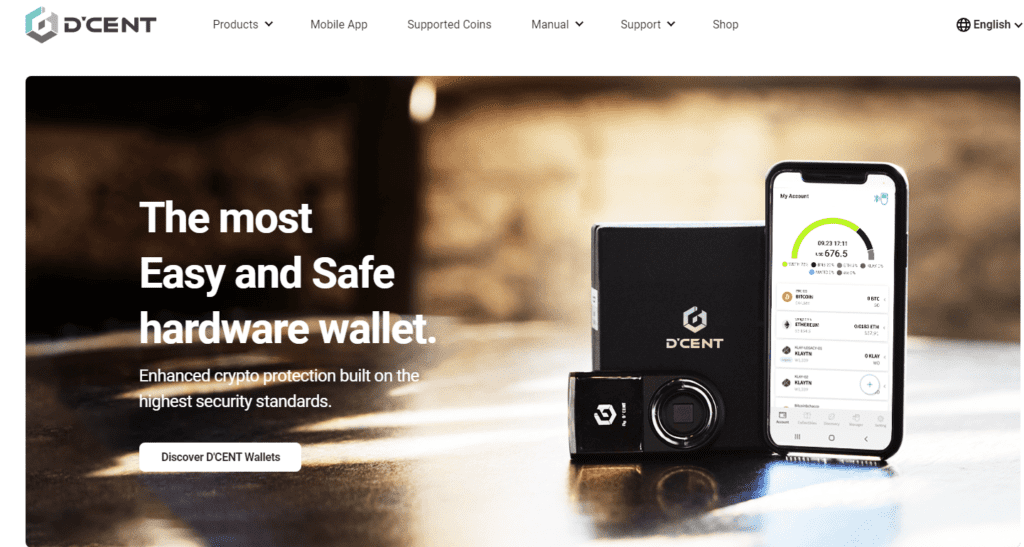 As its name suggests, D'Cent is a biometric-secured hardware crypto wallet and the first of its kind. This IoTrust invention is revolutionary in crypto because it provides top-notch security to its holders and drastically reduces the chances of a breach.
This wallet uses a fingerprint to authorize transactions. It also comes with a USB port, Bluetooth connectivity capabilities, and a mobile app to help monitor your funds. The only downside to this wallet is that it supports very few cryptocurrencies, about six in total.
Key Features
Has Biometric-approved transaction mechanism
Is EAL5+ security compliant
It comes with a mobile app to help execute and monitor transactions
FAQs
What Are the Best Polygon Wallets?
The best Polygon wallets are MetaMask, CoinbaseWallet, Bitski, Venly, and WalletConnect for hot wallets. If you prefer cold wallets, the Ledger Nano X, Trezor, SafePal, and D'Cent Biometric Wallet are the best for Polygon.
Do I Need A Polygon Wallet To Buy Or Trade Matic?
Yes. When buying, trading, and even staking MATIC, you need a Polygon-compatible wallet. A wallet gives you a place to store the MATIC tokens you have bought, want to trade, or stake.
Is Polygon a Good Crypto?
Polygon MATIC is a crypto with tons of potential. As more people continue to embrace crypto and buy into the services the Polygon Network offers, MATIC's value is likely to grow too. The coin's price averages about $0.8, which is a fair price given the turbulence of the crypto market.
How Much Does It Cost To Store Polygons In These Wallets?
Polygon wallets do not charge you for depositing your cryptocurrencies in them. However, each wallet may have its own withdrawal fees or transaction charges when you move money from your account.
Is There an Official Polygon Wallet?
Polygon doesn't have an official wallet. However, the hardware wallets listed in this article are specifically placed in the wallet drop-down menu on Polygon's website.