Source : cryptodaily.io
Pros
The exchange has global compliance certificates from multiple countries
Ground-breaking transaction matching technology
Efficient and responsive customer support
Cons
Higher transaction costs compared to other exchanges
Lacks an in-build wallet
MEXC is one of the lesser-known crypto exchanges. This explains why most investors are curious about the platform or question its legitimacy. If you've found yourself in this position, this article is for you. This MEXC review delves deep into what MEXC Global does, its pros and cons, and everything in between. Let's get started.
What is MEXC Global?
MEXC Global is one of the world's best-centralized crypto trading platforms. The exchange was introduced to the world as MXC in 2018. However, to cater to its global expansion plan, the company rebranded in 2021 and took the name MEXC Global.
Despite being a lesser-known crypto exchange platform, MEXC Global is not a popular investor choice. The platform has over six million active users. Most users prefer the platform for its ground-breaking efficiency and impressive transaction matching technology.  
On an estimate, MEXC Global's trading platform can complete at least 1.4 million transactions per second. These super-sonic transaction speeds make trading on the site a seamless and almost instantaneous process. As a result, the exchange processes transactions worth over $1 billion every 24 hours.
Besides this, the platform is the leading crypto exchange when it comes to the number of global compliance certificates. MEXC Global boasts global compliance certificates from the United States, Canada, and Australia. It is also on its way to obtaining licensing in some of the 200 countries it supports. This includes Brazil, Vietnam, the Philippines, Indonesia, South Korea, Turkey, Japan, India, and some African countries. The platform also has localized language support to make it easier for users across different regions to get services efficiently.
MEXC Trading Options And Order Types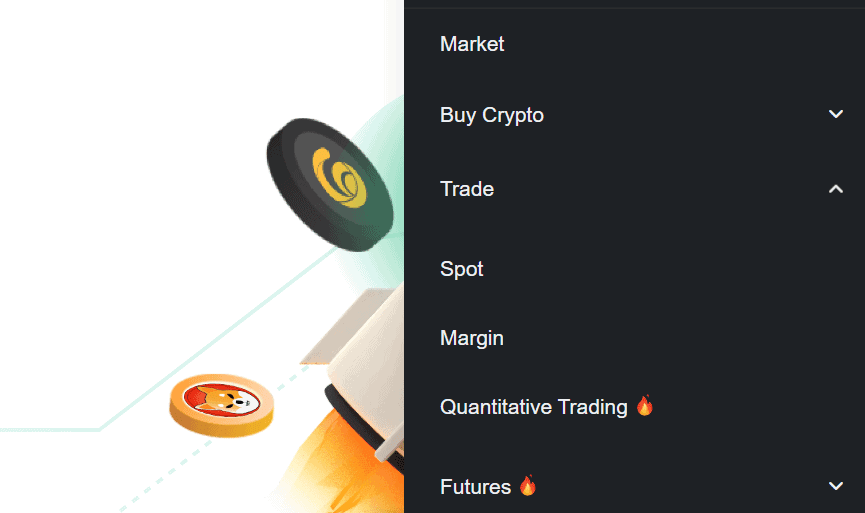 MEXC Global is an active trading platform. Despite being a centralized exchange, which makes it experience more constraints than decentralized exchanges, the platform still gives its users various trading options to explore. Here are some of the most popular trading options available on MEXC.
Trading Options
Spot Grid Trading
Spot trading on the MEXC exchange operates using the grid trading quantitative strategy. Here, a trader provides the maximum and minimum prices for which they are willing to buy or sell an asset. They then set several grids and a base investment amount. From here, the platform uses trading bots to execute transactions to buy at the lowest possible price and sell at the maximum price. 
MEXC's spot grid trading feature is impressive in multiple ways. First, it eliminates the pressure of manual trading. Spot grid trading also reduces trading risks through automation. This is because the service detects and closes trades at prices that generate profits. 
Margin Trading
For traders who want to trade more but lack the capital to facilitate their transactions, MEXC Global is one of the best exchanges for Margin Trading. Margin trading involves borrowing funds and using them to trade. It can be a profitable venture, but a risky one too. 
To borrow funds on MECX's margin trading option, traders need to activate a margin trading account, where they deposit an initial margin deposit. This deposit serves as collateral for the loan. Traders often receive x amount of the funds they put in as a deposit.
When trading margins, investors envision two scenarios. They assume a bearish case, where the asset in question will experience a price drop. For this, they trade short. This means they sell high and buy low. Traders can also trade long. When doing this, they assume the asset will hit a bull soon, so they sell low and buy high. Margin trading can be highly lucrative if traders place their money in the right scenario.
However, regardless of the outcome, the trader has to repay the loan and the interest agreed upon. This is why margin trading is better for traders with experience in the crypto markets. They are likely to make more accurate predictions and lose less money than novice traders. Besides experience, one should also be cautious not to invest too much money in a margin trade because the losses can be significant.
Order Types
Market Order
A market order is a trade that occurs instantly based on market prices. When traders set a market order, they instruct the exchange to trade the asset in question at its current market value. 
Market orders are great when a trader wants a quick trade. They prioritize speed over price and always have a guarantee to execute. However, margin trades give unpredictable profit margins because market prices constantly fluctuate. 
Limit Order
Limit orders are instant purchases or sales of a given asset. These orders focus more on price than speed. 
Unlike a market order, which trades an asset based on an "on-the-spot price" when a trader makes the order, a limit order only executes the trade when a price matching the asked price exists on the order book.
A limit order is beneficial in this sense because a trader can never sell at a lower price than desired. On the flip side, the order may not get a price that matches, so it may never execute. To avoid such a scenario, traders often turn to order types like stop-loss, take profit orders.
Currencies and Payment Methods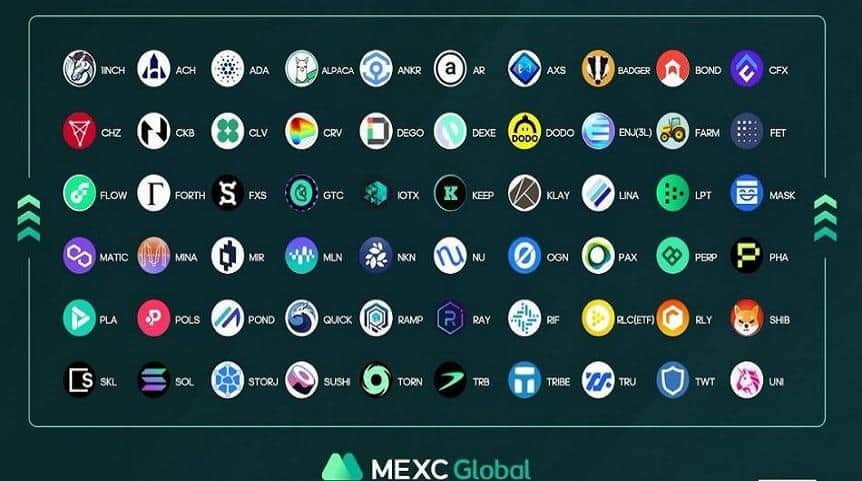 MEXC Global supports a wide range of currencies and trading pairs. The platform has at least 1521 coins. Here's a list of some of the most popular coins on the MEXC Global exchange.
Bitcoin BTC
Ethereum ETH
USD Tether USDT
USD Coin USDC
Polkadot DOT
DogeCoin DOGE 
Stellar XLM
Traders can also explore at least 2109 trading pairs on MEXC. The platform's most active trading pair is BTC/USDT. The pair has a minimum trade volume of $200 million every 24 hours. Here are other popular trading pairs on MEXC Global besides BTC/USDT. 
ETH/USDT
BTC/USDC
EOS/USDT
LTC/USDT
XRP/USDT
DASH/BTC
ADA/USDT
SOL/USDT
BNB/USDT
Aside from supporting an array of currencies, MEXC supports multiple payment options. The exchange's users can transact on the platform using credit and debit cards from Visa and Mastercard. Traders can also pay through global bank transfers using WIFT, PIX, Wire, and ACH or third-party payment services like Simplex, Mercuryo, and Banxa.
Fees
MEXC Global does not charge a deposit fee for any amount of funds that traders put in the account. The only possibility of a fee when depositing into a MEXC account is the transaction cost that another exchange may impose if the trader transfers funds. 
MERC charges fees per transaction for withdrawal fees. However, there is no fixed fee. The charges vary depending on the platform's traffic, liquidity, and network status. Often, the fluctuation margins don't vary by a significant figure, so there is no cause for alarm.
When trading on this exchange, traders will also encounter a trading fee. Typically, this costs 0.20% maker's fee and 0.02% takers' fee. Occasionally, MEXC offers discounts called MX deductions. These deductions can reduce trading fees by about 20%.
Limits
MEXC has a very flexible policy on deposit, withdrawal, and transaction limits. The exchange has no limits for deposits. Traders can deposit any amount of funds as long as they have a verified account.
Withdrawal limits on the MEXC are dependent on an account's verification level. The exchange has three verification levels, namely, primary, advanced, and institutional. Withdrawals for a primary-level account are capped at 80 BTC every 24 hours. Advanced and institutional accounts can transact 200 and 400 BTC, respectively, in a day.