Key Takeaways
Avalanche C-Chain Daily Gas Usage and Txn Count reach new ATH.
Avalabs expands cooperation with traditional funds, major exchanges to build long-term and sustainable relationships.
GameFi projects take positive action and cooperate with professional partners from traditional games.
Major DeFi projects of the ecosystem have upgrades that enhance the user experience.
Subnets are on the rise, the number of subnets has tripled compared to the previous quarter.
Avalabs released several important updates to smart contracts this quarter thanks to the comments and findings of the community.
The amount of TVL of the Avalanche ecosystem fell to the lowest level within 1 year due to competition for market share from other ecosystems.
Introduction
Q3 was still a pretty bleak quarter for the cryptocurrency market in general and Avalanche is no exception. This ecosystem still maintains its long-term vision, while the market is gloomy, Avalabs continues to improve over what was still weak in the past, strengthening cooperation with other ecosystems and organizations.
From an investor perspective, this quarter is not very attractive when it comes to price indicators and total value lock. However, exciting things are still waiting ahead.
More details on what's notable in the last quarter. Let's dive into our article.
Network Activity
C-Chain Activities
Last quarter witnessed a breakthrough growth in transaction volume as well as gas used. According to the collected data, this spike in transactions and gas used came from the DFK subnet (the blockchain of DeFi Kingdom) when the assets of this project moved to Avalanche. 
The txns and gas used indexes continuously peaked, and the day txns count peaked was on Sep 17 with 3,916,369 transactions. The amount of gas used also peaked 2 days later, with 722,479,684,418 gas. In which DFK subnet accounts for nearly 90% of this total. C-Chain and Swimmer Network make up the remaining 10%, and volatility is also roughly equal.
However, if we look more closely, we see an unusual thing that the number of active users in the quarter did not fluctuate strongly, even tended to decrease. This leads to skepticism as to whether the spike in transactions is coming from new users.
To further clarify this issue, we will have a combined analysis of the total value lock index in different sections.
Subnet Status
Daily transaction count reached ATH on 17 September, 2022 with over 3,916,369 transactions including all subnets. DFK Subnet accounted for ~92% of total txn and the remaining 8% belonged to C-Chain and Swimmer Network respectively.
Similar to the transaction volume, the amount of gas used also increased dramatically to ATH on the next 2 days with 722,479,684,418 gas. The amount of gas from DFK also accounts for more than 90% of the total gas used.
The number of addresses is in the range of 36,000-40,000 and there is no spike. Compared to the sudden growth from gas used and txn count, the number of txn is mainly from old users. And in DFK, the number of active users also showed a slight downtrend.
Validator/Delegator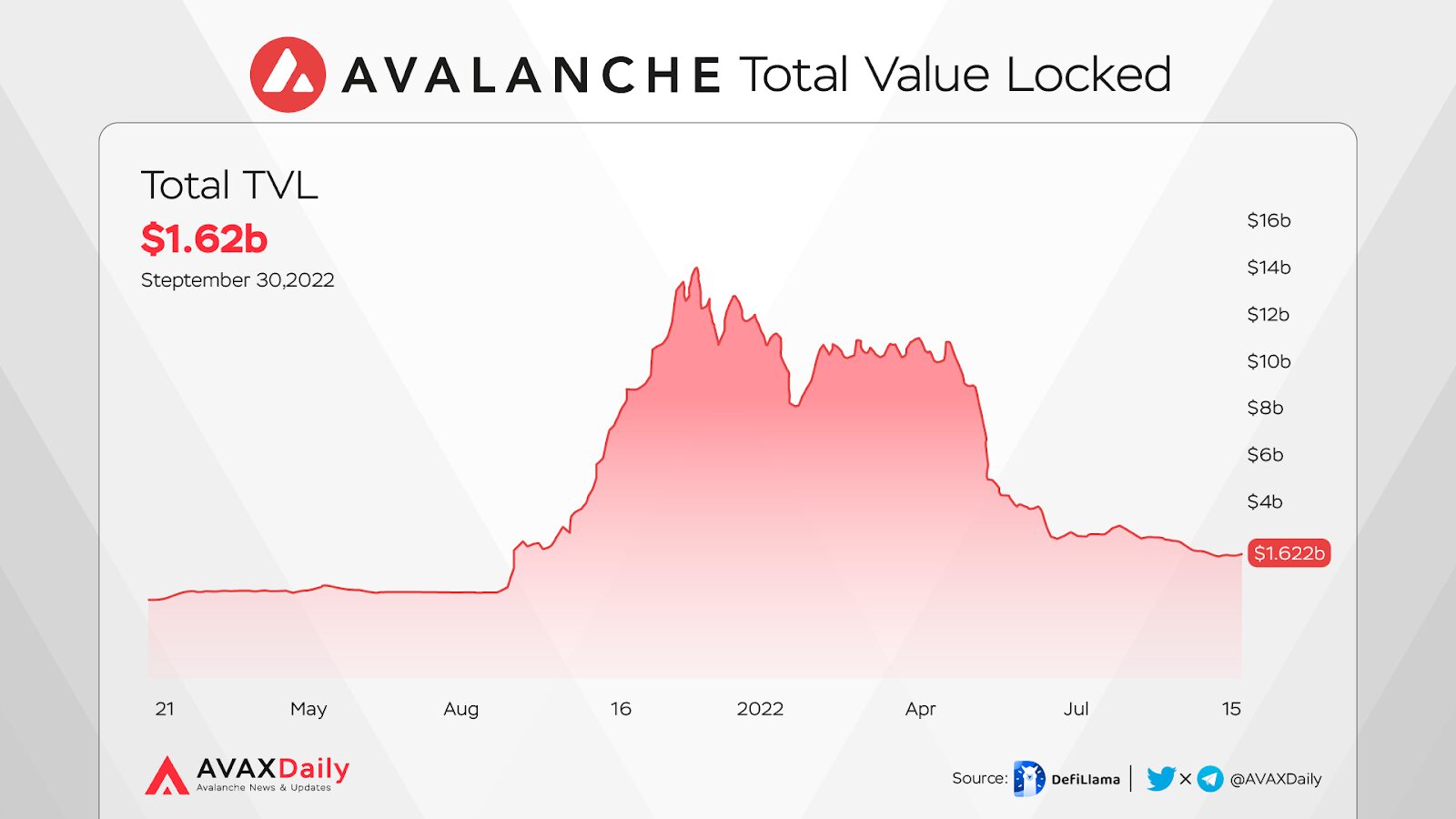 Compared to the previous quarter's peak of 1625, the number of validators showed a downtrend, the ATL of last quarter was 1211 validators on Aug 2.
The number of delegators shows an uptrend, even reaching ATH continuously this September and currently has 33,192 delegators.
Validators in blockchain are usually groups and organizations that hold large amounts of AVAX to operate masternodes. The fact that the number of validators decreases and the number of delegators increases shows that the number of short-term holders with a small amount of AVAX is growing rapidly. This could be due to the AVAX price movement or the unattractive validator rewards during the downtrend.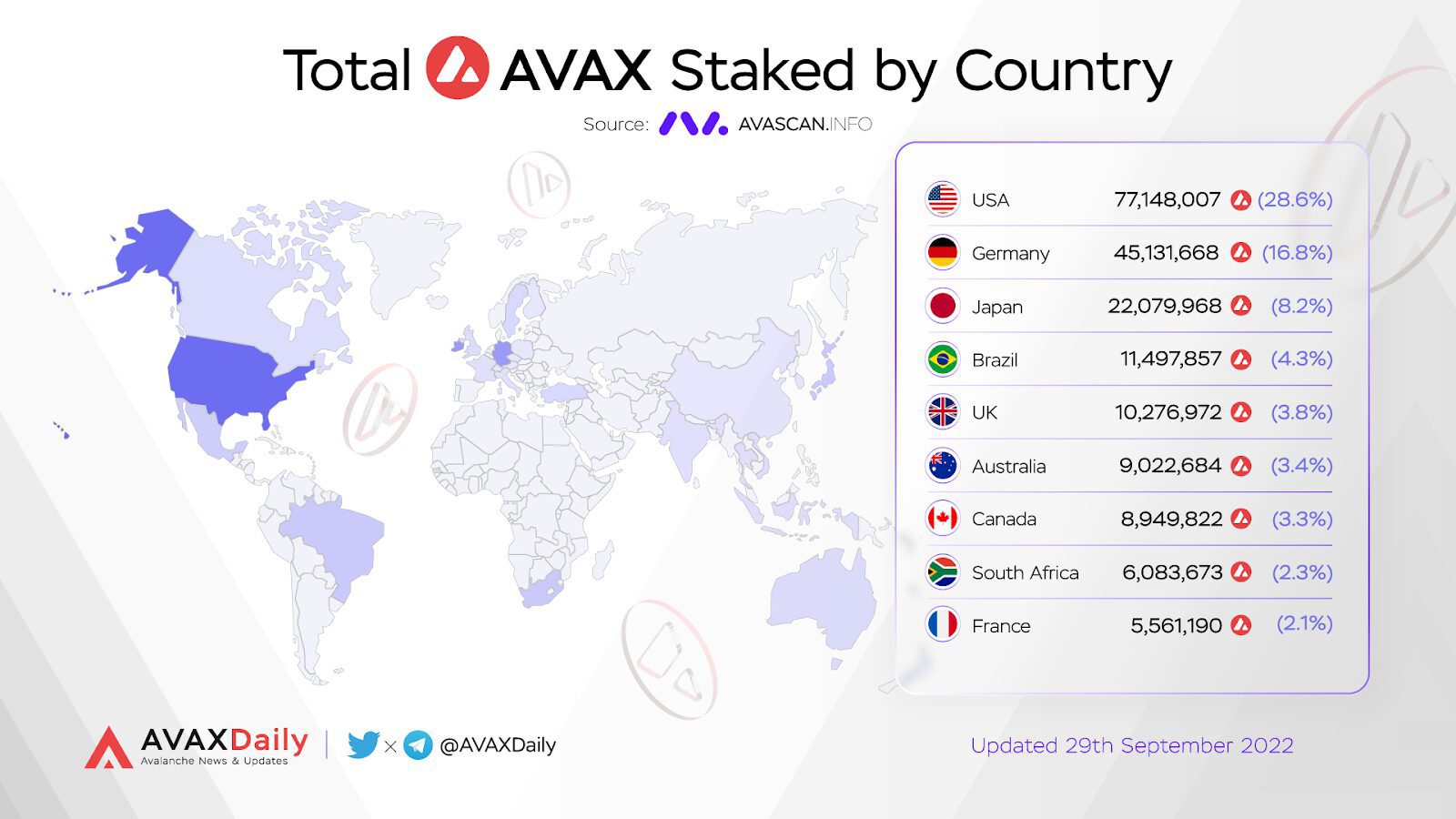 Ecosystem breakdown
Highlighted Events
July
August
September
In addition to important events, the Avalabs team also has important technical updates to Avalanche blockchain in the last quarter:
Apricot Phase 5:
Apricot Phase 6
Social Signals
Compared to the previous quarter, the social indicators give much more positive signals, the social mentions, engagements, and dominance indexes have all doubled. However, compared to the whole market, the Avalanche ecosystem is no longer noticed by most users when the altrank level is only 110 compared to 11 before.
Total Value Lock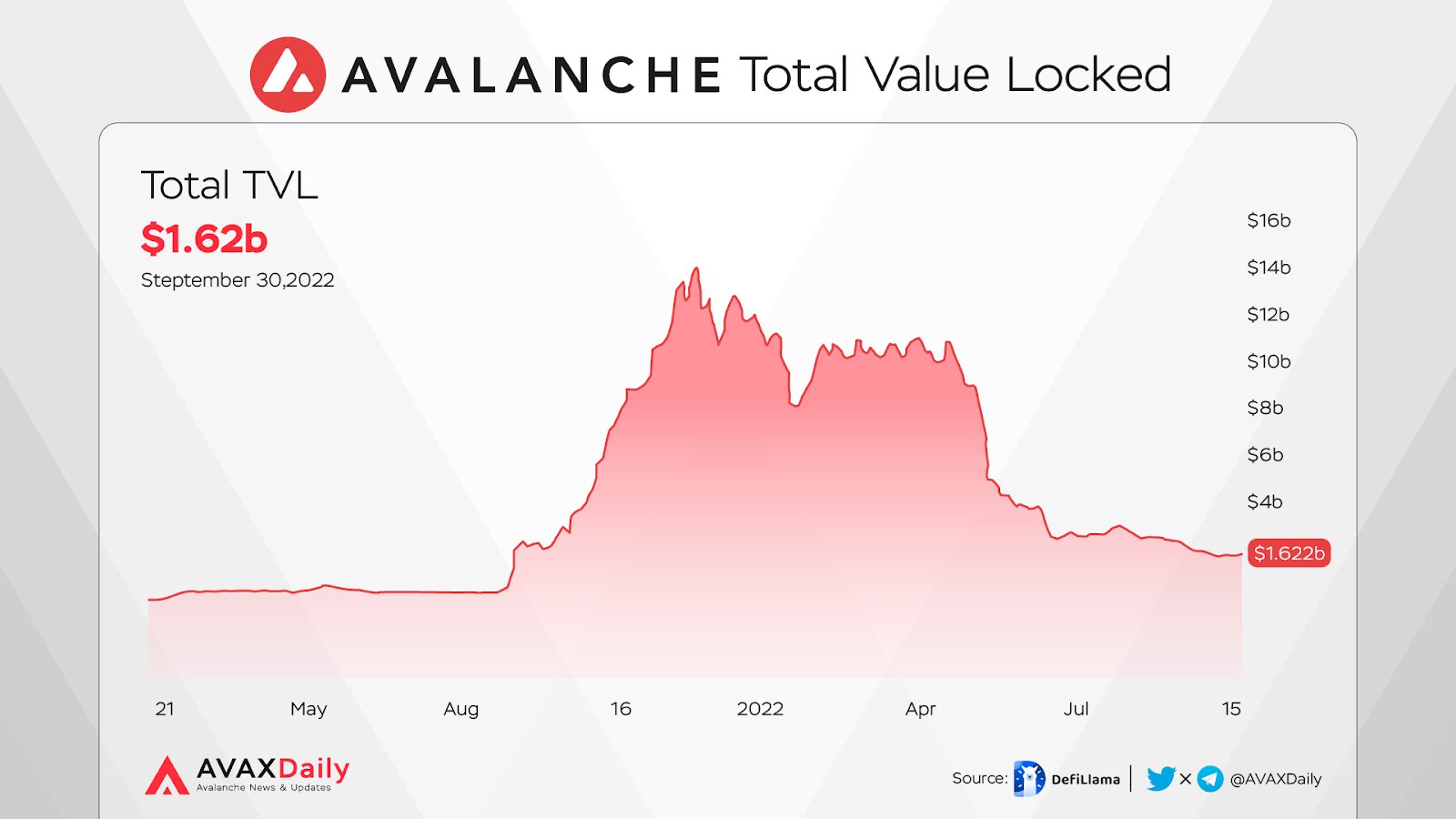 The TVL index of Avalanche ecosystem is quite negative as the main trend is still down. The amount of TVL is currently at the lowest level in the past 1 year, decreasing more than 7 times with a peak of 12.15B. Alpha projects are also continuously withdrawing TVL despite their efforts to retain cash flow with incentive and reward activities.
During this quarter, there were many cross-chain projects extending operations to the Avalanche grid. This brings in new users and money for this ecosystem, but puts a lot of pressure on native projects when the market share is divided.
Highlighted Projects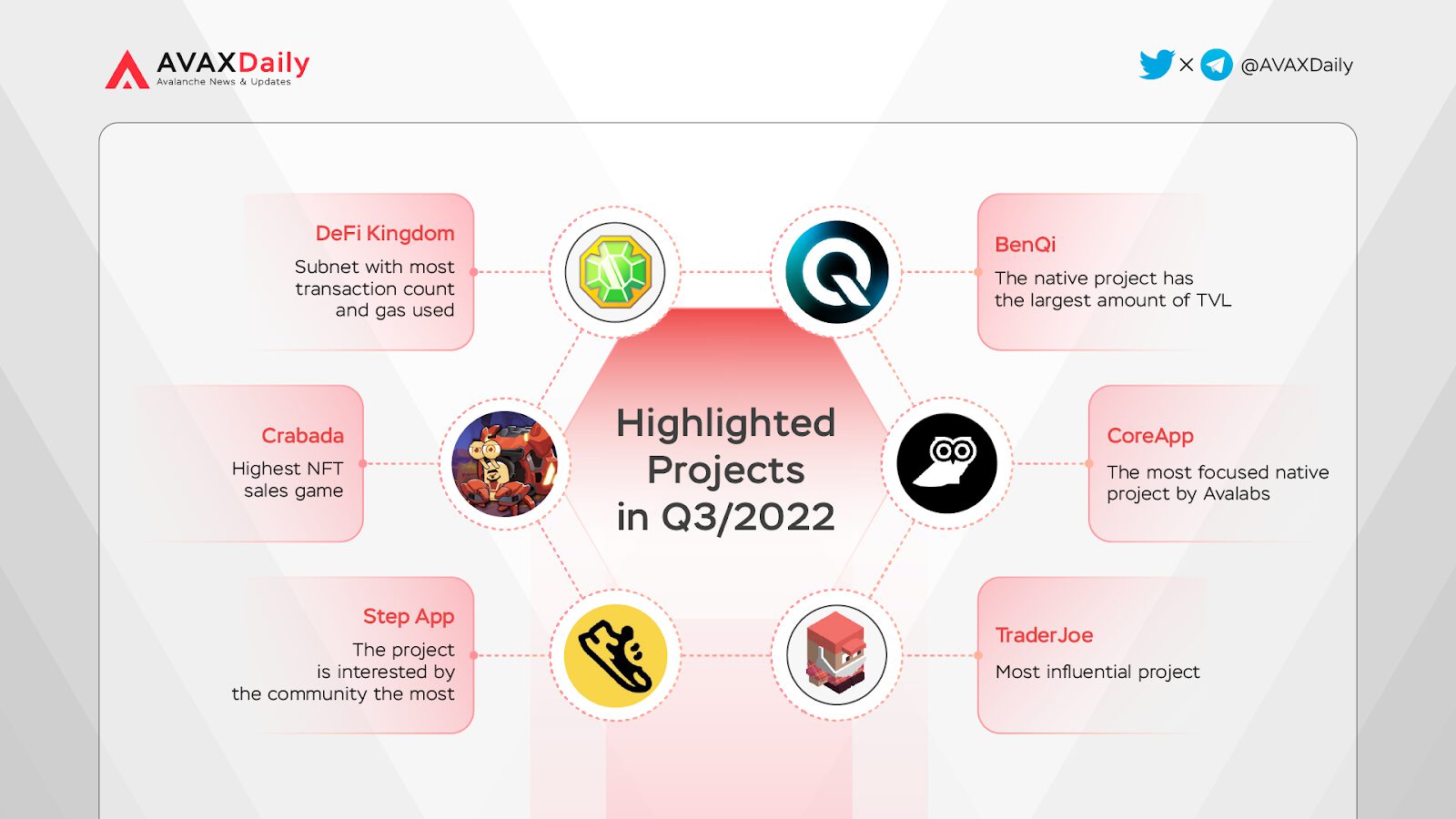 Comparison
Avalanche vs Ethereum
(Reference: Coinexams)
Avalanche utility is almost as good as Ethereum's. However, Avalanche's utility is expected to improve and most likely be better than Ethereum in the near future. Avalanche is used relatively less in transactions, likely because Ethereum is relatively older.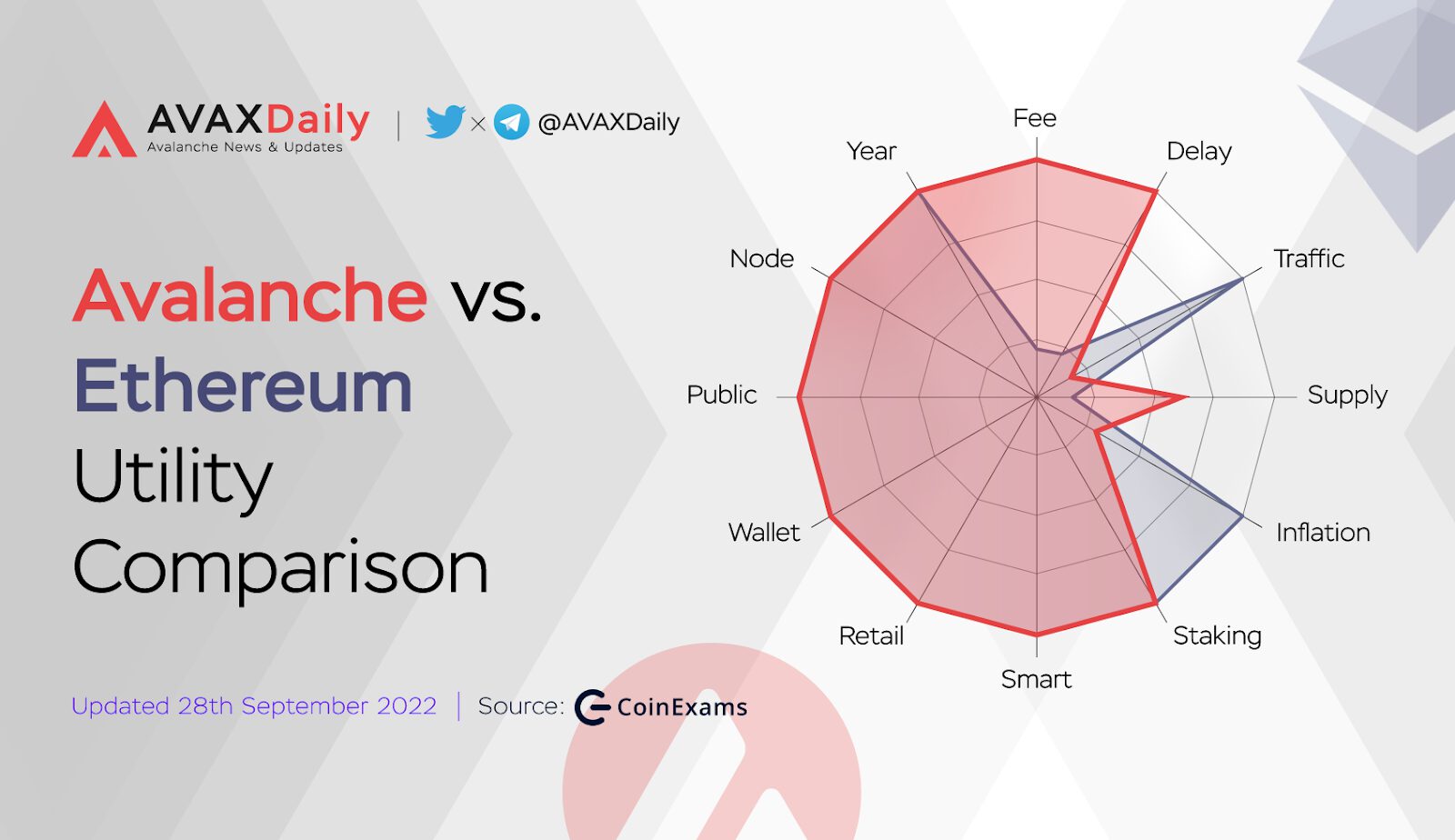 Avalanche is usually 20% cheaper to send compared to Ethereum. In addition, AVAX's transactions are 70% faster to confirm. Avalanche is six times less decentralized than Ethereum. This might indicate AVAX is less trustworthy compared to Ethereum, but does not necessarily mean Avalanche is less secure. Avalanche and Ethereum support self-custody. This makes them less dependent on central entities for security.
While Avalanche's available supply percentage of AVAX coins is at 41%, Ethereum's max supply is unknown/unlimited. As for inflation, Avalanche has a ten higher inflation rate compared to Ethereum. Avalanche and Ethereum have staking capabilities providing 9% APY for AVAX and 5% APY for ETH.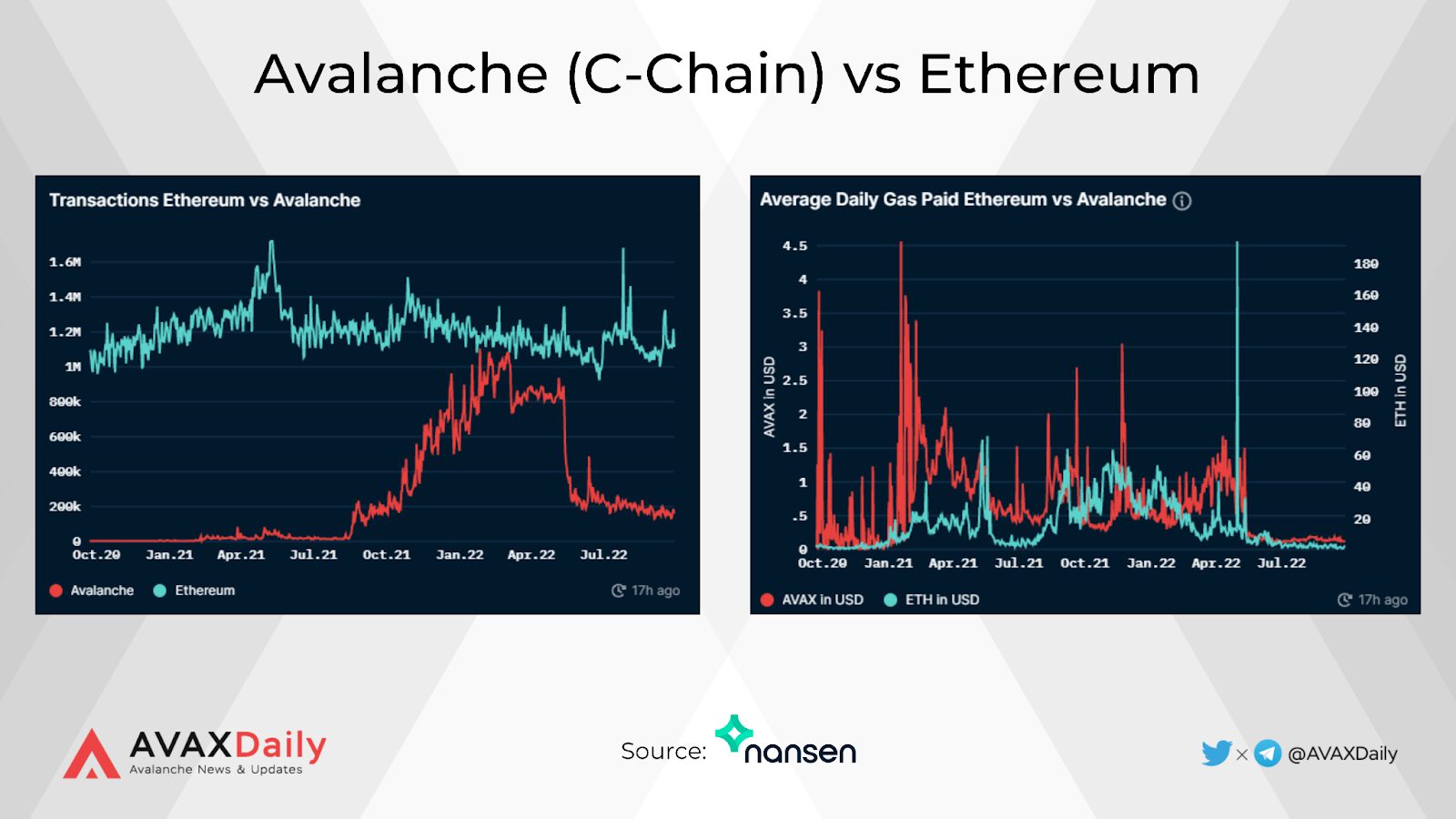 According to data from Nansen, compared to the previous quarter when Avalanche's trading volume was close to that of Ethereum, this quarter showed a downward trend. However, it should be noted carefully that the C-Chain index in C-Chain only accounts for ~5% of the total transaction volume of the whole Avalanche ecosystem, of which 80% is DFK subnets.
The daily gas fee of C-Chain has not changed much, while Ethereum is decreasing, the average daily gas fee of ETH is currently 20 times higher than C-Chain.
Projections
DeFi
A special thing about the Avalanche ecosystem is that the Avalabs development team pays great attention to the development of native DeFi projects of this ecosystem. You can see when the core DeFi projects have the help and backing of Avalabs itself. In the last quarter, the DeFi alpha projects of the system have made significant improvements in their products, user interface, combined with DeFi projects in other ecosystems to attract users.
However, compared to other ecosystems, Avalanche's on-chain signals are not good as the total value lock has dropped to the lowest level in the past 1 year, showing the unattractiveness of DeFi projects. for users. The transaction volume, gas fees, and users of C-Chain have not increased, even tended to decrease.
In order to attract more money and users into the ecosystem, DeFi projects need to have attractive and long-term reward programs during the bear market period; research and design new products that bring benefits to their token model. Compared to the alpha projects in BNB chain and Ethereum, the projects in Avalanche have shortened the product gap, but the gap in TVL, Txn, and users is still quite far.
GameFi
Avalanche's GameFi this quarter witnessed the successful launch of AAA games, bringing excellent gaming experiences to users with unreal engine 5. Although gamefi is forecasted to be a "golden egg", however, the market is in the adjustment phase, so more or less projects are still affected. A notable category is move-to-earn with 2 projects Step App and Runblox, true to users' expectations and expectations, Step App has successfully deployed its own blockchain, Step Network, with full infrastructures to develop with the vision of an ecosystem dedicated to improving user health. Runblox evolves as part of Bloxverse and has been successfully deployed on Apple watch. Upcoming projects that have fully built infrastructure on subnets or have a stable number of players will be bright spots.
NFT is not Avalanche's bright spot, in terms of sales volume and transaction volume, Avalanche is behind many blockchains. Potential NFT projects only account for very little when they actually have use cases when used in DeFi, GameFi protocols. And Avalanche also does not have a popular collection like Ethereum. This is an unattractive point for users, but it is a fertile ground for famous NFT artists.
Conclusion
Avalanche's long-term vision is still to focus on developing the ecosystem, expanding cooperation with parties, and helping projects develop on Avalanche. Currently, it can be said that this is an ecosystem that is not as vibrant as Ethereum, but is growing more and more. This shows that Avalabs is aiming for a long-term and stable development, not a quick boom and death.
Next quarter promises to have more positive information about the development of Avalanche. However, the general market and the crypto market, in particular, are going through difficult times due to economic tightening. So the expectation for exponential growth is unlikely to happen.
Disclaimer
The information provided in this report does not constitute investment advice, financial advice, trading advice, or any other sort of advice and you should not treat any of the report's content as such.
AvaxDaily does not recommend that any cryptocurrency should be bought, sold, or held by you. Do conduct your own due diligent research and consult your financial advisor before making any investment decisions.